Pro racer and Mazda Motorsports coach, Tom Long, attended the Southeast Region race at Road Atlanta of the Spec MX-5 Challenge Series presented by Toyo Tires; this is his take, as seen on TomLongRacing.com.
This past weekend was an SCCA road racing event at Road Atlanta where I attended it on behalf of Mazda for the Spec MX-5 Challenge Series that runs on many SCCA and NASA weekends. Spec MX-5 is a newer car that Mazda created to run in the Spec MX-5 series. Many racers use it as steppingstone to MX-5 Cup and many use as a destination series just like Spec Miata. One key difference is the Spec MX-5 series uses the 2006-2015 MX-5 cars whereas the Spec Miata platform is comprised of 1990-2005 Miatas. But in both cases, they offer great competition with club racing teams building cars.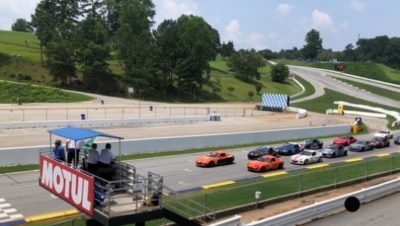 It was a lot of fun to be at Road Atlanta for this since it was my first Spec MX-5 event in quite a while. There's such great camaraderie in the series, and we even enjoyed a cookout together on Saturday night. My role for Mazda was to work with series drivers, coaching them and reviewing their data and video to help identify opportunities for them to get quicker and more proficient. It was a great way for me to start getting to know the drivers who are new to the series, too.
I got to see a bunch of familiar faces as well as the new crop of talent, and I can guarantee it's going to be an exciting championship finish for the series in November, when Spec MX-5 returns to Road Atlanta during the SCCA ARRC. A few of these select drivers have their sights set on the Mazda MX-5 Cup Shootout this fall, as well, and of course we can expect to see some of these drivers moving up to Mazda MX-5 Cup in the near future.
I found a lot of these young talents to be fresh out of karting, and the Spec MX-5 series provides a great transition from go-karting into sports cars at a club racing level, with scholarship opportunities to progress into MX-5 Cup. I fully expect to hear these drivers' names throughout sports car racing as their talent and experience grows!