With the four regional events plus the finale at the SCCA Runoffs National Championships now in the books, the GT-3 Challenge presented by MPI complete has a new champion: Paul Young of Commerce Township, MI.
Wins & podiums. Simply, consistent, strong results and participation helped Young claim the championship just ahead of Michael Lewis (10X Runoffs champion and 2X Le Mans competitor, pictured above) and Ken Nelson, who also earned a top 5 finish at the Runoffs.
It was another strong season for the Challenge series, building on the re-emergence of a strong class. Talk around the paddock is that many from other classes are planning to join GT-3, which offers fun cars to drive, and car counts that will offer significant competition. 2021 planning is underway, with more updates to be shared here on MazdaMotorsports.com.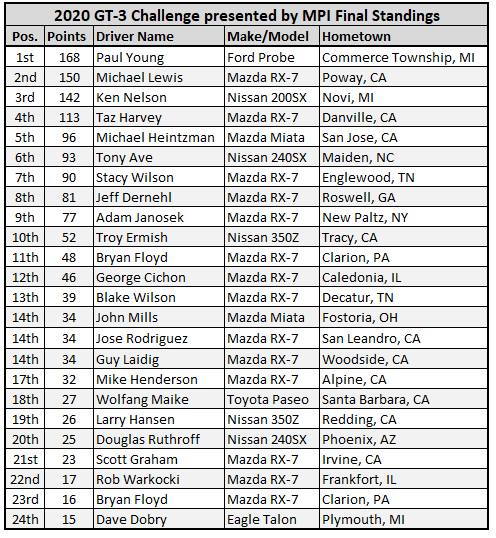 2020 GT-3 Challenge presented by MPI Schedule:
Rounds 1 & 2: Buttonwillow Raceway Park, SCCA Hoosier Super Tour, February 21-23
Rounds 3 & 4: Michelin Raceway Road Atlanta, SCCA Hoosier Super Tour, July 25-26
Rounds 5 & 6: Road America, SCCA U.S. Majors, August 15-16
Rounds 7 & 8: Pittsburgh International Race Complex, SCCA Hoosier Super Tour, August 28-30
Round 9: Road America, SCCA National Championship Runoffs, October 3-11