In August 2018, Mazda Motorsports announced a new shock for Spec Miata – one made by Penske Racing Shocks (PRS). By selecting PRS to be the maker of the new shock, Spec Miata received a proper, rebuildable race shock and solution (which you can get a refresher on here) for about the price of a set of race tires. Appreciating that there was an increase in price for this shock compared to the Bilsteins, Mazda Motorsports knew it was important to use the existing suspension package (e.g., springs, coil-over sleeves, top hats, and spring isolators), except for the bump stops.
Mazda Motorsports is excited to announce an optional, updated version of the Penske shock for Spec Miata. This update offers new features and benefits, but a competitive advantage/speed increase is not one.
The new package (compared to PRS version one):
One coil-over shock (shock valving is the same as previous version)
Coil-over thread protector (new addition)
Threaded adjuster (new addition)
Friction lock (new addition)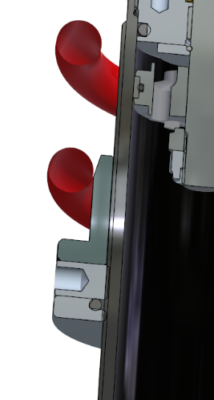 According to Josh Smith, Specialist, Technical Development for Mazda Motorsports, "The purpose for this update was to provide our customer with a simple, elegant design that improves upon the original components, keeping up with modern, industry solutions. We were not going to devalue or replace our first version with Penske; this new version is just another great option for our customers moving forward."
The new features – their functions and benefits:
Eliminated a separate coil-over sleeve to integrate it into the shock in order to 1) eliminate the spring contact/wear on expensive components and 2) improve heat dissipation:

Reduced wear. The new coil-over shock allows for the proper amount of clearance between the spring and more expensive aluminum components. Because the ride height adjustment threads are machined directly on the shock body, there is increased clearance to the spring. The spring is also properly guided by a plastic component, which is more typical in motorsports. The slippery plastic component is meant to properly guide the spring coils as the suspension compresses. This smooth operation reduces wear and provides smoother spring operation for better performance.
Improved heat dissipation. The elimination of a secondary threaded ride height collar covering the body of the Penske shock allows for better heat dissipation. The extra thick aluminum collar is like wearing a winter coat in the summertime, increasing running temperatures, and potentially causing the shock oil to break down faster. More consistent performance and longevity should result from the more efficient design.
Integrated a new ride height adjustment system to offer more accurate ride height adjustment:
The new, integrated ride height coil-over system provides a more positive, accuratemethod of adjustment. The first version by Penske Racing Shocks (i.e. the two-piece collar system) allows for the potential of ride height adjustment error as there was potential for the collar to rotate during adjustment. The integrated coil-over system is standard in motorsports because every turn of the ride height adjuster results in an accurate, repeatable spring preload. Pervious adjustment equaled 0.125" of vertical movement per turn; the new coil-over system in 0.100" per turn.
Added self-locking hardware to remove the complication and hassle of locking screws:

Note the self-locking hardware
The included Penske ride height adjusters include tool-free locking features to simplify adjustments. Adjusting ride height has been made easier by quickly unlocking and re-locking the adjuster without tools.
Part numbers:
Front: 0000-04-5275-TB
Rear: 0000-04-5276-TB
Price: $298.74
Coil-over install instructions found here
Urethane isolator install guide found here
Available Now: Ships from Illinois, Georgia, and California distribution centers.