A tribute to Gary Bockman.
It's often said that people come to motorsports for the cars, but they stay because of the people. If you came to motorsports in Portland, Oregon any time in the last 48 years, chances are good you have encountered Gary Bockman. And if you have gotten to know Gary at all, he's the first person you hope to see every time you come to the track.
Gary arrived on the Portland motorsports scene in the early 1970s, by his own account wandering through the front gate at Portland International Raceway (PIR) during a Cascade Sports Car Club track day. He stuck around and became one of the most successful drivers the city has produced, and also an effective evangelist for the Portland track and for racing in general.
"This race track is my home," Gary says. That might sound like exaggeration coming from anyone else, but with Gary you know he means it. Gary treats the city park that houses PIR with special care, quietly volunteering his time and expertise for everything from putting in flower beds to refurbishing the bridge that crosses the track on the front straight.
Gary is also Portland's most visible advocate for motorsports. When the track was threatened by political turmoil in 2005, Gary took the lead. He became the founding President of Friends of PIR, a political action organization formed to defend the facility. Gary became a diplomat, ultimately convincing a reluctant city council that support for the facility ran deep in the community. The track's future is safe today because of Gary Bockman's work
It's impossible to completely catalog Gary's career as a driver. Together with Chuck Shafer, Gary set a world record in 2000, co-driving in the Silver State Classic. Gary and Chuck laid down a trap speed of 207.780 MPH, the highest ever achieved on a public highway at that time. That record stood until 2012. Proving his versatility, Gary also piloted a novice team to a third-place finish in the 2008 Alcan 5000 Winter Rally, driving north of the Arctic Circle and onto the Arctic Ocean in the dead of winter.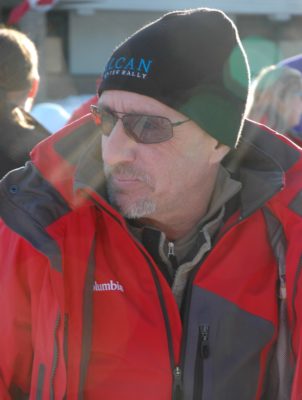 Gary has earned many regional and divisional championships over the years in both SCCA and the Pacific Northwest's International Conference of Sports Car Clubs. In SCCA national racing, Gary claimed the 2016 U.S. Majors Tour nationwide points championship in GT-3, and competed in the Runoffs nine times from 1995 through 2018. Gary took second place in GT-3 at the 1996 Runoffs, and in 2016 he came heartbreakingly close to winning the GT-3 national championship in his Mazda RX-3. Gary claimed the pole position that year, and led the race with a picture-perfect drive. At the last lap signal Gary held a commanding lead, but a driveshaft u-joint let go in Mid-Ohio's fast Turn One, leaving him stranded alongside the track.
You can tell more about someone by how they handle defeat than you can with victory. Gary never said a bitter word about it. He went home, checked over every part on the car, and was back at the track the next spring.
Gary enjoys winning, and when he wins you want to be near him to share his exuberant joy. But he is not a man to dwell on past victories for long. With Gary, winning is a moment to celebrate before moving on to the next challenge.
Bringing new drivers into the sport is as much a part of Gary's life as competition. Over the years, Gary has trained hundreds of new racing drivers and complete novices taking their first turn on the track. As a teacher, Gary emphasizes car control. "When you're driving a race car at speed," he says, "you gain the ability to see into your future, and you get to control what that future's going to be." Gary will take all the time needed to help give a student driver a successful experience. If you count the number of drivers Gary has coached and instructed over the years, you'll find that most Northwest racers owe something to him.
Passion, dedication, and community have always been Gary's hallmarks. He always races to win, but he always races clean. If you can beat him on track, he'll be the first to congratulate you. Then it's on to the next race. That's the Gary Bockman way.