If the Mazda brand stands for a feeling, an emotion, then people are at the core of everything we do.  Machines don't have emotions and can't "feel alive."  However, the interaction between people and our cars can ignite and fuel passionate feelings.  Our obligation as humans is to uplift other humans and in pursuing dreams of racing, Mazda drivers young and old are inspiring others to follow their own dreams.  That inspiration enriches other's lives and leads them to a heightened state that ultimately uplifts them.
While on the surface racing can seem like a somewhat selfish pursuit, the outward manifestation is the impact a racer's dedication and commitment to his or her sport has on others can be a powerful motivator. Many Mazda racers can attest to the joy and excitement on a young child's face when he or she gets to experience a race and meets a racing driver for the first time.  Likewise, when others among us with more experience get to meet their own racing heroes, that same feeling of inspiration and enrichment is there.
Motorsports is defined by its people and Mazda Motorsports is fortunate to enjoy relationships with some truly inspiring people among our teams, drivers and fans.
Liam Dwyer (pictured above), Tristan Nunez, and several hundred grassroots racers are all personalities with rich stories to share about living their best lives.  They are all inspirational in racing and life. Liam Dwyer proudly served his country as part of the United States. Marine Corps.  That enough is inspirational; however, Liam also suffered catastrophic injuries while serving in the war on terror, losing his left leg above the knee and suffering massive injuries to his remaining three limbs and internal organs. During his rehabilitation, Liam was told he would be unlikely to ever drive a stick shift car again.  That was enough to inspire Liam to defy that prediction and pursue his racing dreams.  Just three years after suffering his injuries, Liam drove a Mazda to a win in the IMSA Continental Tire SportsCar Challenge series at Lime Rock Park (and went on the win a subsequent race at Laguna Seca).  This is inspiration at its best.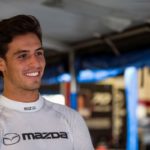 Tristan Nunez is the youngest winner of a professional sports car championship in the U.S., having won the IMSA Prototype Lites Series in 2012 at just 16 years of age. He has been a member of Mazda's professional sports car team since – initially in the Gran Am Mazda6 SKYACTIV Diesel and currently as driver of the #77 Mazda Team Joest RT24-P Prototype in the IMSA WeatherTech SportsCar Championship.  Perhaps more importantly, Tristan started and maintains a foundation aimed at educating teens about the dangers of distracted driving.  Tristan recognized that teen drivers would relate to him in a very different way than they would to parents and teachers as he was just a few years removed from their life stage.  And he felt this message was very important and needed to be shared.  He regularly speaks at schools before race events and is using his position in racing to lift younger drivers and make them aware of the dangers of distracted driving.
Both inspirational men have used their vastly different circumstances to find a way to enrich and uplift others and in doing so truly represent why Mazda is so committed to racing.  Throughout our loyal racing community there are similar stories of drivers at all levels using their passion for motorsports to inspire, educate and enrich others.
And it is not just drivers who get to provide this inspiration.  When Mazda Team Joest is at tracks around the country, they often encounter young engineering students or people who have always dreamed of a technical or a marketing-related career in racing and for whom the folks on the team are living their best lives. This inspiration is part of the obligation that we all have to uplift those with whom we come into contact with. Engineers and mechanics, photographers, logistics & hospitality staff and even our Mazda Team Joest chef (nutrition is a big part of a team's performance over the course of a weekend) all share a deep commitment to living their best life through their work with Mazda.
Most passionate of all are our Mazda fans; their love of the brand shines through; they support and trust Mazda to deliver for them; and they remain an army of brand advocates.  And Mazda is both thankful for their loyalty and committed to delivering to their expectations.
If Mazda stands for a feeling, it is most evident in racing.
Related stories:
Feel Alive
Challenger Spirit