Todd Buras has won a lot of races, but at the 2019 SCCA National Championship Runoffs, the Spec Miata title he left with was the one he really coveted
"I've won in World Challenge, IMSA Continental Tire, MX-5 Cup … I've been on the podium on all of those stages, and this really was one of the most special," says Todd Buras of winning the SCCA Spec Miata National Championship. "To win a race where nine other guys could have won is pretty outstanding. Nine guys had all of the qualifications to win, and everybody felt they could have won. It's pretty cool to have won in such a competitive field."
Buras has been competing in Spec Miata off and on for nearly two decades, with his other racing happening from about 2006 to 2014. Since returning to Spec Miata, he's been a consistent frontrunner, but in a couple of previous attempts at the Runoffs, he had come up short. This time he didn't, but he's quick to praise his teammates, Jim Drago, who was on his rear bumper for most of the race, and Preston Pardus, who was just 0.185sec behind Buras at the finish.
"It's so much bigger than an individual – it's all about the team," Buras explains. "I've always been with Jim, and three years ago I started working with Preston a lot with the data and racing. He won the [Spec Miata] championship in 2017. We took that momentum and went to Homestead and learned how to drive bumper to bumper, on the radio, talking to each other. Jim and Preston and I talk to each other every lap."
The drivers sort through the data, and when one of them hits the right setup, they all run that setup. At the Runoffs, they went out in qualifying together at the back of the pack all by themselves and worked together without interference from anyone else. As a result, they qualified one (Buras), two (Pardus), three (Drago).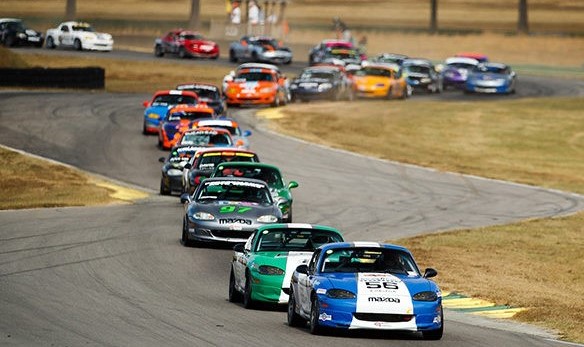 "The race was amazing," Buras says. "Everybody said that after Danny [Steyn] was off [causing a yellow flag], the pace was so fast at the front and you're so on the edge, there was very little passing and, when there was, there was contact or almost out-of-control brake lockup. It was single file until they freight-trained me; that's when a lot of the passing took place because it was no longer single file. Preston went from ninth to second in three laps after we started going single file. It was on."
Buras, who joined the racing world in 1997 and discovered Spec Miata around 2001, says it's not just teamwork. The three East Street Racing teammates have been competing in a lot of ChampCar and World Racing League races, and winning, in a 1994 Miata. That means a lot of seat time, and seat time always helps, says Buras, who with his wife Debby owns a chain of Krispy Kreme franchises in Florida. 
Buras is ineligible to be considered a rookie by IndyCar because of his prior pro racing experience, especially in MX-5 Cup, so the Road to 24 Shootout to earn a ride in Idemitsu Mazda MX-5 Cup Presented by BFGoodrich isn't in the cards for him. Regardless, he hopes to race more in Touring 3 in a Mazdaspeed Miata – he finished eighth in that class at the 2019 Runoffs – along with continuing in Spec Miata. And, of course, he'll be hunting for his second SCCA national championship title.