Penultimate race weekend with over $375,000 to race for
PORTLAND, Ore. (28 August 2019) – As part of the NTT IndyCar Series Grand Prix of Portland, the Idemitsu Mazda MX-5 Cup presented by BFGoodrich® Tires® drivers head west to Portland International Raceway for the round of competition this weekend.  The double-header race weekend will be streamed live on  http://MazdaMotorsports.com (3:45 PM ET Saturday, 11:30 AM ET Sunday), starting five minutes before the green flag drops.
The 1.97-mile, 12-turn flat-surface circuit is the shortest road course on the Mazda MX-5 Cup six-event, 12-round schedule. With limited passing opportunities, the 25-car field has to make every turn count in the two 50-minute races to maximize points as the season-long championship comes to its final stages.
With four races left in the ultra-competitive 2019 Mazda MX-5 Cup championship, drivers are ready to battle for a total of $375,000 in support from Mazda.
The 2019 ND2 class champion will receive a $200,000 career-advancement scholarship from Mazda to use toward the Mazda Road to 24 ladder, while the ND1 class champion will receive a $100,000 scholarship that can be applied to the 2020 Mazda MX-5 Cup championship.  The Rookie of the Year in the ND2 class will receive a $75,000 scholarship from Mazda.
Bryan Ortiz (No. 4 Copeland Motorsports) leads the ND2 championship by just two points over 2018 Rookie of the Year Selin Rollan (No. 87 Sick Sideways Racing), and only 12 points over fifth-place Robert Noaker.  Arriving to the Pacific Northwest, Noaker is hot off another win at Mid-Ohio Sports Car Course earlier last month.
"Last year, I got caught up in the first lap accident," said Noaker.  "After we worked on the car for 10 hours to get it back on the track for Sunday, the eighth place finish was pretty good and I was able to run the same lap times as the leaders. With just four races to go, now I don't have to be as aggressive since I made up 33 points at Mid-Ohio. Four out of the last five races I have finished no worse than second. I feel really good about the momentum going into the last two weekends."
Last season in the series' Portland debut, survival was the name of the game after an opening-lap incident eliminated several cars from the race, including Ortiz.
"This weekend I am definitely looking ahead after two race weekends with issues, and hopefully we can show the speed and consistency up front like we know that we can," said Ortiz. "I feel very confident that Copeland Motorsports have put together a great car for me and I can drive my Bella Racing Mazda to the front. We are leading the points but it's very tight and there are a lot of great drivers to battle with for the remainder of the year. Last year we were the fastest car out there but we had issues in qualifying and I made a mistake in the first race costing us valuable points. This year, I want to race smart but get that win for all the hard work that my team has put into it."
Luke Oxner (No. 77 White Racing), driving for the two-car White Racing team, wisely navigated through two incidents in Turn 1 at Portland last year to take his first Mazda MX-5 Cup win ahead of Rollan, who finished second, while Robert Stout crossed the finish line in third. On the cusp of podium finishes at each event with four top-five results, Oxner looks to break through to the top at Portland International Raceway, repeating his 2018 success with a victory.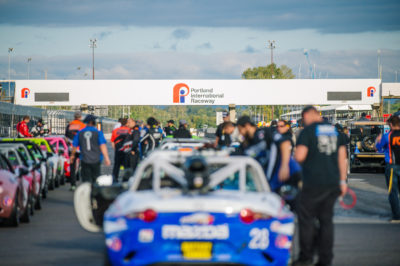 "I think the key to winning at Portland is qualifying well,"  Oxner explained. "It's really important at this track for two reasons. One – simply because it's a tough track to make passes on during the race. And two – the first corner is a super tight chicane that's infamous for first lap incidents, and being closer to the front helps your odds of not getting caught up in one. So my focus will be getting the Mazda No. 77 dialed in during the practice sessions to make a strong run in qualifying. If we can do that, I think there's a good chance you'll see White Racing on the podium again this year."
The second Mazda MX-5 Cup race last season at Portland International Raceway saw the 2018 Mazda Road to 24 Scholarship Winner Rollan earn his second series victory in a hard-fought win over his Sick Sideways teammate Nathanial Sparks.
After missing out on a podium in both of the previous rounds at Mid-Ohio Sports Car Course due to mechanical issues, Rollan is hungry to close the gap on Ortiz with a win on a track where he's experienced so much success.
"Last year I scored a second and first in the two Portland races, and I'm hoping for something similar again this year," said Rollan. "I definitely like the track.
Being from Florida, I grew up on very flat tracks and this is one of them. I know I have a fast car and great team behind me, just have to be consistent, smart, and have a little luck on our side. Unfortunately, we had an electrical problem that took me out from having a very solid points weekend at Mid-Ohio, but we are working hard to find this gremlin and hopefully we keep things running normally."
Adding to the competitive storyline is the rookie championship battle, which will see the winner emerge with $75,000 in support from Mazda. Leading the rookie points is 2018 Mazda Road to 24 Shootout winner Michael Carter (No. 08 Copeland Motorsports), who scored his first pole and podium finish at Barber Motorsports Park earlier this year. Carter, 16, won the Mazda Road to 24 Shootout along with $100,000 in support from Mazda toward his 2019 Mazda MX-5 Cup season and has scored three top-fives and four top-10 results to go along with his first podium finish.
Gresham Wagner (No. 99 Sick Sideways Racing) is another rookie to keep an eye on this weekend. Wagner trails rookie leader Carter by 21 points, but Wagner is coming off his career-best Mazda MX-5 Cup weekend at Mid-Ohio, capturing two podium finishes to boost his rookie run of points ahead of Portland.
Dominating the new ND1 Championship is John Dean II (No. 16 Sick Sideways Mazda). With a near perfect season, Dean could clinch the championship at Portland. Settling the ND1 title before the WeatherTech Laguna Seca finale would mean that Dean would pocket a $100,000 scholarship for his 2020 Mazda MX-5 championship run.
Extending a program that saw great engagement during the Circuit of the Americas, Barber Motorsports Park, Road America and Mid-Ohio Sports Car Course rounds, Mazda will once again host a live stream starting five minutes before the races on MazdaMotorsports.com for both the Saturday (12:45 p.m. PT) and Sunday (8:30 a.m. PT) rounds.
Live timing and scoring for Friday's practices (8:30 a.m. PT and 1:15 p.m. PT) and qualifying on Saturday (8:30 a.m. PT) will be available at MX-5Cup.com.
The Mazda MX-5 drivers will also host an autograph session in the IndyCar Fan Village from 2:30-3:00 p.m. PT on Saturday.