Third place for Jarvis and fourth place for Bomarito in Saturday afternoon's qualifying session
ELKHART LAKE, Wis. (August 3, 2019) – Saturday afternoon's qualifying session for the IMSA WeatherTech SportsCar Championship race at Road America saw the Soul Red Crystal Mazda RT24-Ps lock out the second row of the field.
A brief rain shower delayed the start of Saturday afternoon's 15-minute qualifying session, changing the ambient weather and track conditions just as the Daytona Prototype international field took to the track. Jonathan Bomarito was given qualifying duties in the No. 55 Mazda RT24-P, while Oliver Jarvis qualified the No. 77 Mazda RT24-P. Both drivers posted strong times in the opening laps of the session, which was then interrupted by a red flag for another car that needed to be pulled out of a gravel trap. Neither driver improved their time after the red flag, and Jarvis finished the session in third place while Bomarito finished in fourth.
This season, Jarvis has recorded pole positions at Daytona, Mid-Ohio and Watkins Glen.
The IMSA race at Road America will be shown live on the NBC Sports App on Sunday, August 4 at 2:30 PM ET and then broadcast tape-delayed on NBC Sports at 6:00 PM ET.
QUOTES
John Doonan
Director, Mazda Motorsports
"Our goal this weekend is to continue the success that we have enjoyed over the last two races. That won't be easy, with the level of competition that we have here in IMSA, but today was a good first step toward that with the two cars qualifying on the second row. The team and drivers got the most out of the Mazda RT24-Ps in qualifying but our focus is always to have a car that will perform well over the course of a stint and over the length of the race, not necessarily over a single flying lap. I'm really looking forward to seeing what tomorrow's race brings."
No. 55 Mazda RT24-P
Jonathan Bomarito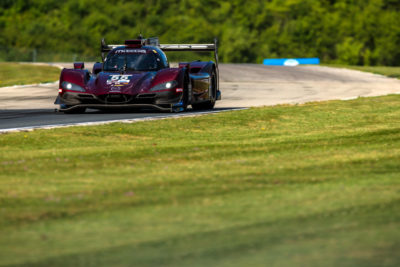 "Both cars have been making improvements all weekend and I feel like we've been making the car better and better – not necessarily for qualifying, but for the race. That's the big picture here, and I feel pretty good about it. The rain we had right before the session cooled the track a bit, and we had a little bit more grip in qualifying. With light fuel and new tires it's going to feel better naturally, but that little bit of rain cooled off the track and dried quickly which made the conditions pretty good. The Penskes have been really fast but starting third and fourth is great for Mazda and we are still really optimistic for our chances this weekend."
No. 77 Mazda RT24-P
Oliver Jarvis
"I think we knew we were never going to beat the Penskes which had unbelievable pace all weekend, so third place is the maximum that I think we could achieve in qualifying. We've made big progress all weekend, so thanks to the team, now we just have to focus on the race. After the rain, the track got a lot more grip so that little bit of rain may have cooled the track down, but the field went considerably faster than they were in third practice. I was a little bit cautious in the last corner especially after we saw the GTLM cars go off but apart from that, the Mazda RT24-P was really solid. I think we have good race pace, tire degradation is going to play a key role, but more than anything I'm just loving being here at Road America and I'm looking forward to the race."