MazdaMotorsports.com checks in with the two most recent winners Lemons of Love Winners
Drake Kemper was the first winner of a Lemons of Love Mazda MX-5 Cup car, and he's using it to good effect by currently leading the Battery Tender Mazda MX-5 Cup presented by BFGoodrich points. At Road America, he was battling with another Lemons of Love car, the most recent one won by Mitch Bender and driven by his son, Danny. 
The second winner? Well, Daniel Miller only saw the car he won in March 2018 a few weeks ago.
Miller is in the U.S. Air Force, works on avionics systems and has been deployed overseas. He bought tickets for the raffle after reading about it online. Miller says he usually gives about $500 a year to charity, so he bought five tickets. He likes the Lemons of Love mission of delivering chemotherapy care packages because his mother is a breast cancer survivor. 
"I was actually in Afghanistan when I received the e-mail and saw the video of the drawing," he says. "I was shaking so bad I had to watch the video at least five times. It was so unexpected that it took me totally off guard.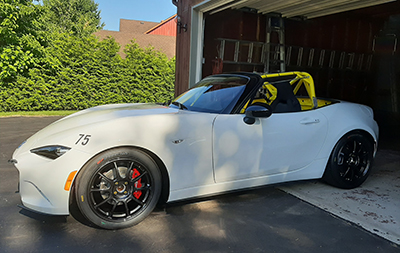 "I got to see the car for the first time a few weeks ago," he continues. "When it was completed, I had it shipped from Long Road Racing to my father's house in Rochester, N.Y., where he stored it in his garage for over a year. Seeing the car in person for the first time gave me a similar feeling to the day I won it. I walked around the car several times just to take it all in. The craftsmanship of everything on the car is incredible."
So far, he's only driven it outside to wash it. He doesn't know exactly what he plans to do with it, since he's currently coming from Japan and is being stationed in New Mexico. We're pretty sure, though, that he can't wait to drive it properly.
Danny Bender, though, is quite sure of his intentions with the car his father won: He wants to win the 2019 SCCA National Championship Runoffs at VIRginia International Raceway in Touring 3. He already has several U.S. Majors Tour wins, including both races at the SCCA June Sprints at Road America, and is already qualified for the Runoffs. 
For the Benders, winning the car was special, and very serendipitous. This year's car was given special maroon accents in remembrance of Dave Wheeler, who lost his battle with cancer last year. Wheeler had been preceded in death by his wife Ann O'Malley, and together they ran Mazda prep shop powerhouse Advanced Autosports. Wheeler had crewed for Mitch Bender in his GT-1/Trans Am days, and Danny Bender always raced out of the Advanced Autosports shop. The Benders considered Wheeler and O'Malley good friends, and their initials are in the Lemons of Love logo on the car. There are two others, though: BH for Danny's mother, Barb Hondros, and AL for Alana Long. Because the MX-5 Cup races at Road America were dedicated to Alana Long, the Benders were asked to race the car and attend a special Lemons of Love presentation.
"Jill [Swanson Peltier] had me come up and say a few words," says Mitch. "I said how lucky I was, in the first 58 years of my life, I never really had anybody get sick and had to witness how devastating cancer is and how devastating chemotherapy and the treatments are. And in the last year we lost Danny's mom and Dave Wheeler, and previously Ann O'Malley. And then Alana Long, who we knew. It was stunningly eye-opening how courageous these people are, how tough it is, and the difference that Jill's organization makes.
"In some ways we all believe Dave, Ann and Danny's mom had something to do with this," he adds.
Mitch, who owns Bravo Race Trailers, says he plans to eventually race the car in some events at Autobahn Country Club, where there are several MX-5 Cup car owners, and perhaps in some SCCA events. "It's fun to drive and so dead reliable and economical to run it on the club level. It's a different deal at the pro level with the competitiveness, but that's not me. I just want to have fun," he enthuses.
For the national championship and pro events, he'll leave the driving to Danny, who says the car has the capability to win the SCCA Touring 3 national championship at VIR in October. "He kind of relegates the driving back to me. I think he gets as much pride watching it as a dad," says Danny. 
Danny raised a lot of additional money for Lemons of Love at the Road America MX-5 Cup races in memory of those close to him, and encourages everyone to support the organization. Lemons of Love will be giving away a fourth Mazda MX-5 Cup car in the spring. For more information, see lemonsoflove.org.