Team owner and MX-5 Cup champion John Dean II has created a life for himself and his family with Mazda Motorsports
What started out as a $5,000 loan from his brother has grown into the largest, most successful team in Idemitsu Mazda MX-5 Cup presented by BFGoodrich, as well as a leading prep and performance shop for track day cars, road vehicles and even drag racing cars. John Dean II's Sick Sideways does it all, and he's looking for more.
"Back in 2011, I had just started the shop as kind of a track day facilitator," explains Dean of Sick Sideways' beginnings. "I had two clients, a husband and wife, and she wanted to do MX-5 Cup. She had watched it, loved it, and really wanted to race in that series. I was coaching both of them, and we worked out a deal where they would fund me to race in MX-5 Cup and they would race as well. It was a good way to get my foot in the door and get started. The problem was, they had a change in business right after we figured out the deal, and they ended up only doing one race. It was very difficult that first year."
Dean made it through the first year, and in the decade since, Sick Sideways has won multiple driver's championships in MX-5 Cup, including one for Dean and one for Nathanial Sparks. Two Sick Sideways drivers are currently at the top of the standings – Drake Kemper leads Selin Rollan by three points. In addition, Dean himself is at the top of the ND1 championship. The team holds the record for the most podiums, most poles, and is a two-time Team of the Year in the series. Their status is reflected not only in the race results, but in the growth of the shop. 
"In 2011, I had this 5,000 square foot building in downtown Sebring, Fla.," he recalls. "We had a few clients, and did MX-5 Cup. Then we grew out of that space. I was working a couple of years trying to move to the racetrack. We were hoping to take over one of the shop buildings, but could never make the deal work. Then I found the shop that I'm in now, less than five miles from the track, on the busiest road in Sebring and at an intersection that's really convenient to get to the track.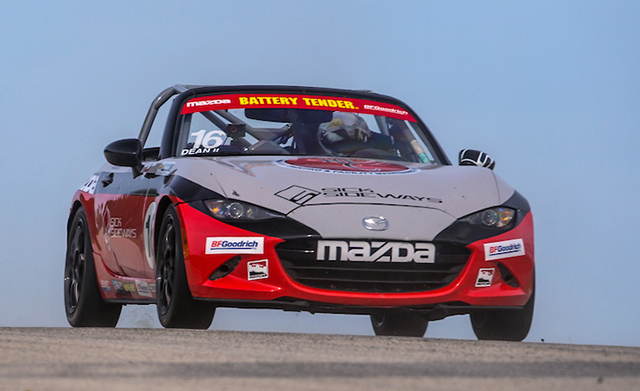 "It's the first time I could build a business model that wasn't reactionary," Dean explains. "I was able to change my approach because of the great location. We became a very public-based shop, where we work on street cars, a lot of performance cars, track day cars and some regional race cars. We're a full-service automotive shop dedicated to road racing and performance, with some drag racing clients as well."
While the largest portion of Dean's business involves Mazdas, at home, it's all Mazda, right down to the family CX-9 and his wife's ND Miata.
"Our family was growing, and in 2015 we were getting to the point where our kids were getting taller, so we needed something with third-row seating," he says. "You can't get in and out of a lot of these vehicles with third-row seating and I hated everything I looked at. I was at another dealership when it hit me – the CX-9 has third row seating. I called [Mazda Motorsports Director] John Doonan and he sent me to Classic Mazda in Orlando. I met Heath [Patterson], and didn't even test drive it. I saw how easy it was to get in and out of the back row. We still have it now and drive it every day. It's a fantastic vehicle."
With his wife's ND, his family owns three generation of Miata. The only one he's missing is an NC, which he says, ironically, is his favorite. 
On the business side, the one thing he feels Sick Sideways is missing is that it doesn't have a program for drivers to grow into. Consequently, he's looking for that next step, and it's toward what Mazda is working on for the future.
"I very much want to continue forward in racing, and would love to get the team, as well as myself as a driver, into IMSA running TCR, or running a GT4 or GT3 car at some point," Dean says. "It really paves a path for new drivers that ask, 'Do I want to go with a team that does only MX-5 Cup, or do I want to go to a team that does MX-5 Cup and then can move into another series in the future?' There's a huge opportunity to create a ladder within Sick Sideways. We hope Mazda continues to develop more platforms in different race series in America, and we would like to be one of the teams that offers that sort of path."
The team may be called Sick Sideways, which is an expression that originated in Dean's days as a driving instructor, but John Dean II clearly has a plan for moving forward. And the future is coming quickly, too – that 16,500 square foot shop Sick Sideways moved into a couple of years ago is already bursting at the seams.