One Week After First IMSA Victory, Mazda Team Joest Targets Another
IRVINE, Calif. (July 5, 2019) – A few short days following a historic first win for Mazda Team Joest in the IMSA WeatherTech Sportscar Championship, the team returns to the track for this weekend's Mobil 1 SportsCar Grand Prix at Canadian Tire Motorsports Park in Bowmanville, Ontario.
At the Sahlen's Six Hours Of The Glen, the Soul Red Crystal Mazda RT24-Ps recorded their strongest performance to date in the Daytona Prototype international class. Oliver Jarvis set a new track record for the class to take pole position in qualifying in the No. 77 Mazda RT24-P, and both it and the No. 55 Mazda RT24-P led throughout the six hour contest. But, a bold pass by Harry Tincknell to retake the lead in the final hour of the race sealed the victory for the No. 55 Mazda RT24-P with Jarvis right behind in the No. 77 Mazda RT24-P to record a one-two finish for Mazda.
With the CTMP circuit featuring a high-speed, high-committment layout that is similar to Watkins Glen, the team's drivers are confident as they travel north of the border for the lone Canadian stop for the WeatherTech SportsCar Championship.
The Mobil 1 SportsCar Grand Prix will be broadcast live on Sunday, July 7 at 1:00 PM ET on NBC. Qualifying will be streamed live on Saturday, July 6 at 11:25 AM ET on IMSA.tv.
QUOTES
John Doonan
Director, Mazda Motorsports
"Last week at Watkins Glen still feels like a dream, but this week we have to get right back to business at Canadian Tire Motorsports Park. Everyone associated with the team, from the drivers, the crew, our partners at Multimatic and AER remain as hungry as ever, but certainly I think we have momentum on our side and there's a great feeling in the team this week. I can definitely say that we are no less hungry to achieve success for Mazda than we were before Watkins Glen. All of us at Mazda would like to thank the hundreds of people who have sent notes of congratulations following last Sunday's victory. We truly appreciate all the encouragement and support from our fans, the motorsports community, and the industry at large."
No. 55 Mazda RT24-P
Jonathan Bomarito
"Canadian Tire Motorsports Park is an amazing track that requires full commitment from the driver. It's also really challenging in traffic, which also makes for some intense racing, which should suit the Mazda RT24-P really well. Hopefully, we can take the huge momentum from our first win and push for two in a row!"
Harry Tincknell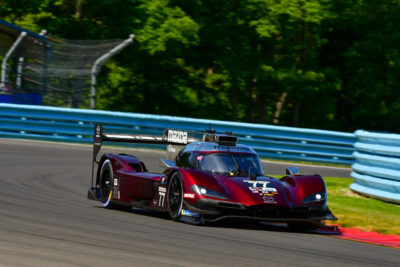 "What a difference a week makes, and I am so excited to be heading to Canadian Tire Motorsport Park as an IMSA race winner with Mazda Team Joest. Watkins Glen was an incredible team effort and to record a one-two finish with pole and fastest lap sends us into this weekend surfing a huge wave of confidence. CTMP is one of the craziest tracks I've ever been to as it is high speed and high commitment without room for error. This year, with more grip from the Michelin tyres and more power from our Mazda engine, it's going to be incredible. I hope we can challenge at the front for back-to-back victories!"
No. 77 Mazda RT24-P
Oliver Jarvis
"I've got to say, I feel even more motivated heading to Canadian Tire Motorsport Park this weekend than usual. It's a fast, high-commitment track that suits the Mazda RT24-P really well and I hope we can continue the strong qualifying form that our car has had this season. Everyone at Mazda Team Joest is riding a big wave of momentum, and Tristan and I would really like to bring home our first victory for everyone at Mazda."
Tristan Nunez
"It's always a treat to race at Canadian Tire Motorsports Park. It's a fast, old-school track that is similar to Watkins Glen and after we finished one-two last week, I'm really excited to get right back in the No. 77 Mazda RT24-P. There's a great crowd and a great atmosphere, so there's a lot for us to look forward to but Olly and I are very focused on getting Mazda back in victory lane this weekend."