It was a busy weekend for Mazda Motorsports, with Idemitsu Mazda MX-5 Cup presented by BFGoodrich back on at Road America where Robert Noaker and Selin Rollan took the victories but Drake Kemper assumed the points lead. Also, at Road America, Mazda scholarship recipient Hunter McElrea took his first victory in the Cooper Tires USF2000 Championship. 
Elsewhere, SCCA's Hoosier Racing Tire Super Tour and Time Trials National Tour were producing close competition and numerous victories for Mazda racers.
Hoosier Super Tour at Watkins Glen
The penultimate Hoosier Racing Tire SCCA Super Tour of the year, and the last one on the East Coast, took place in beautiful weather at Watkins Glen International this past weekend. As is often the case, the Spec Miata drivers put on one heck of a show, with a margin of victory on Saturday of only 0.114sec. 
Elivan Goulart, Danny Steyn and Tyler Kicera swapped the lead officially four times, but the opening 11 laps were just a setup for the final lap. Hustling for the final position, Steyn was crossed up and sliding from the lead through the bus stop on the last go-round, with Goulart and Kicera sneaking by. The trio went three-wide exiting the boot, which Steyn said after the race, "You can't do." They did, however, and Goulart came into Turn 11 with a narrow lead over Kicera.
From there, it was a drag race to the finish. Kicera chased Goulart side-by-side, with Goulart staying inches in front for the win. But that didn't account for a flying Steyn, using a great run and a draft out of the final corner, coming up the inside. Though Goulart and Kicera were only a half car length apart, Steyn somehow snuck between them to take the silver medal.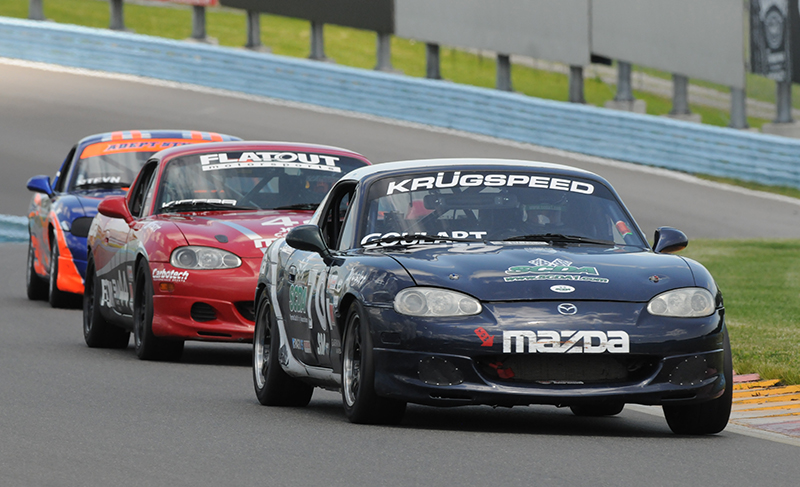 "The last half lap was just total fun, insanity," said Goulart, driver of the No. 70 KRUGSPEED/SCDA1.com/KESSLER Engineering/SCDA Driver Development Miata. "It was clean, hard and not an inch given – one of the best races ever."
Goulart repeated the win on Sunday, one of several drivers to score double victories. Joining him with double victories were E Production winner John Hainsworth (RX-7); Charlie Campbell in F Production (Miata); Charles Turner and Scott Rettich in Formula Enterprises and FE2, respectively; and John Weisberg in Super Touring Under (MX-5). Meanwhile, Danny Steyn won on Saturday in Super Touring Lite in his MX-5, and Ahsen Yelkin won Formula Atlantic on Sunday in his Swift 014/Mazda.
The final Hoosier Super Tour of the year takes place next month at WeatherTech Raceway Laguna Seca. The U.S. Majors Tour continues this weekend at Roebling Road with a Southeast Conference event.
Time Trials National Tour
The Tire Rack SCCA Time Trials National Tour hosted a trio of events in June that resulted in seven victories for Mazda drivers. With two events in relatively close proximity, a couple of drivers even managed to double their wins on consecutive weekends at High Plains Raceway in Colorado and Heartland Motorsports Park in Kansas.
Andy Hollis and John Hunter won at both tracks, Hollis driving a 2019 Miata in the S5 class, and Hunter taking two T4-class wins in a 2016 Miata. Other Time Trials National Tour winners include Mike Jensen winning T5 at Portland International Raceway in a 2000 Miata, Chris Robbins winning P3 at Heartland Motorsports Park in a 2006 MX-5, and E.L.F. Entriken taking T5 in a 2000 Miata at Heartland Park.
SCCA Match Tour in San Diego
Tire Rack SCCA Match Tours are National autocross events designed to introduce new participants to national-level competition. The first day of competition consists of two sessions in which drivers make three runs on the same course, then the driver's best time from each session is combined to determine class winners. The second day starts with a qualifying session on the same course as Saturday. The fastest eight drivers from each heat (as ranked via the PAX index) are eligible for the Top Dog Challenge. The next eight are eligible for the Under Dog Challenge. Additionally, eight names are drawn at random to fill the Lucky Dog Challenge.
In Street Touring Xtreme, it became clear by second runs that Adam Tarnoff and Derek Punch would be in a tight battle for the class win. On that run, Tarnoff laid down the fast time for the day in his RX-8, with Punch about a second back. In the afternoon, Punch set the fastest times of the session, but a cone on his first and fastest run kept him from overcoming the deficit. Ultimately, it was Tarnoff ahead of Punch on the final results by 0.780sec.
Other class winners were Brian Goodwin in C Street (2019 Miata); Dennis Hubbard in E Street (1999 Miata); W.T. Wong in Street Touring Roadster (2017 Miata); Gary Cameron winning Street Touring Sport in a Miata; and Steve O'Blenes driving his 2005 RX-8 to the F Prepared win.