The SCCA June Sprints and ProSolo in Toledo
Always one of the biggest events on the SCCA U.S. Majors Tour, the WeatherTech Chicago Region June Sprints, also a part of the Hoosier Racing Tire SCCA Super Tour, seldom disappoints. The fast 4.048-mile, 14-turn Road America track produces exciting racing where drafting is key and handling is a must. As such, it's also a track where Mazda racers often find great success.
The weekend included a missing-man formation of Spec Miatas to represent Dave Wheeler, the owner of prep shop Advanced Autosports who lost his life to cancer in the past year. A fixture in the Spec Miata and Mazda racing world, Road America was Wheeler's home track and he and his wife Ann O'Malley are missed greatly in the community.
For those trackside watching the 53-car Spec Miata event on Saturday, Jim Drago may have seemed to take an easy win in the No. 2 East Street Racing Mazda Miata. But despite Drago leading every lap, the last couple of trips around the circuit were anything but easy as Tyler Brown and Preston Pardus were tucked right up on Drago's bumper. A slight error by Brown on the last lap, however, gave Drago breathing room through the final corners.
"The last lap, Tyler had me," Drago admitted. "He was waiting for the back straight, but I sailed it through the Kink and ran the car right out to the curb. I think he followed me, dropped a wheel and spun in the Kink. If Tyler had made it through the Kink, his car was really strong and I don't think I could've defended. But we get to do it all again tomorrow."
On Sunday, Danny Steyn, who swept the Super Touring Lite class over the weekend in his No. 9 Ocean Machinery/Nelson Engines/OPM Autosport/G-Loc Brakes/Hoosier MX-5, looked poised to claim a third victory Sunday in the Spec Miata race. He held a substantial lead over the field through most of the race, but as the laps ticked down, Steyn was hampered by traffic, giving Brown and Drago the opportunity to close up. What resulted was a last-chance dash to the finish line, which Brown won in his No. 07 Sneaky Moose Motorsports/Custom Wireless Inc. Spec Miata.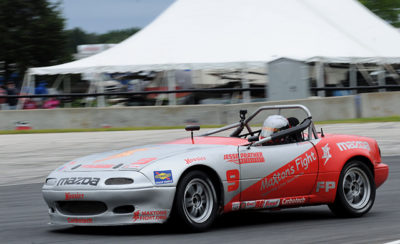 Another pair of Mazda Miata drivers found themselves in a great battle for the F Production win on Saturday. After each experienced tricky traffic, Ken Kannard and Eric Prill exhibited close, door-to-door racing throughout their event. But in the end, Prill claimed victory in his No. 9 MaxtonsFight.org/Jesse Prather Motorsports/Hoosier Miata.
"We had a great race," Prill proclaimed. "We had a lot of side-by-side racing. [Kannard] never quite got in front of me, but we drove around the track next to each other quite a bit. Really clean racing. But at the very end, I just was able to pull out a little bit of a gap." Prill repeated the win on Sunday, joining Matt Reynolds (E Production) as a two-time Miata winner in the Production classes.
The GT-3 races were part of the GT-3 Challenge presented by MPI, a series supported by Mazda, Max Papis Innovations, Penske Racing Shocks, AiM Sports and Hoosier Racing Tire. The GT-3 Challenge consists of five events held around the country, culminating with October's SCCA National Championship Runoffs. As a class, GT-3 is gaining momentum once more, with a competitive and exciting race on Saturday that saw Rob Warkocki and his No. 78 Hoosier/TRO/Mazda RX-7 charge from behind for the win.
"I didn't even turn a wheel until today. Been thrashing on the car … and just way behind on everything," a grinning Warkocki said. "So, starting dead last, I knew I had my work cut out for me. But I know this track so well and the car so well that it was just a matter of putting my head down and keeping it clean. We fought our way through it all the way to the end. But between Paul Young and George Cichon, they kept me honest and I really had to keep pushing hard without letting up. It took everything I had to keep ahead of those guys."
Without having to come through the field, Warkocki did it again on Sunday. By winning both races at the June Sprints, Warkocki becomes the GT-3 Challenge representative from the Midwest Region at the 2019 VIRginia International Raceway SCCA National Championship Runoffs in October. He will face three other GT-3 region champions at that year-end event for the overall GT-3 Challenge championship honors.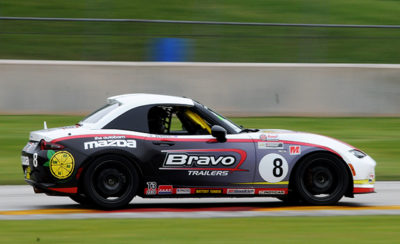 Another driver claiming double victories at the June Sprints was Mark Snyder in Formula Enterprises; his brother Liam took the Saturday win in FE2, while Scott Rettich won on Sunday. Meanwhile, Stephen Thomas won both Formula Mazda contests, and Danny Bender took both Touring 3 wins in the Lemons of Love Mazda MX-5 Cup car that he'll race in the Battery Tender Mazda MX-5 Cup presented by BFGoodrich® Tires at Road America this weekend.
Mazda racers taking single victories include Kevin Fryer and James Ebben splitting the Touring 4 wins in NC MX-5s; Mark Brakke winning H Production on Sunday in a Mazda2; and Jonathan Goodale taking Sunday's GT-Lite contest in an MX-5. 
Toledo ProSolo
The SCCA ProSolo season has been in full swing with a flurry of events in the past few weeks, with the latest competition being held at Toledo Express Airport in Ohio. 
Tara Johns won the Ladies 2 class in a 2019 Miata, then she went on to win the Ladies Challenge. Johns' win marks the third Mazda Ladies Challenge win in a row, with Kim Whitener taking wins at Lincoln, Neb., and Mineral Wells, Texas. 
Other Mazda class winners include Ken Houseal with the C Street class win in a 2019 Miata, joining the Mazda drivers that swept the trophies in C Street. It was also a trophy sweep in Street Touring Roadster, since all but one entry was some form of Miata; there, William Koscielny came out on top in a 2017. Rich DiMarco won Street Touring Sport in a 1991 Miata, and Andrew Pfotenhauer led a Miata top-three finish in Race Tire Index 2.