Longer studs help endurance racers make wheel changes more quickly and securely.
(For all parts spotlights, click here.)

Endurance racing requires quick wheel changes, often in less than ideal conditions – at night, in the rain, etc. Mazda offers a variety of longer wheel studs with a quick start nose.  This enables the wheel to be removed and replaced much faster when compared to a stock wheel stud. Also, the rounded nose self-aligns the lug nut for easier installation with less risk of cross-threading.
Mazda Motorsports has ARP wheel stud kits & MSI Racing Products for several Mazda applications.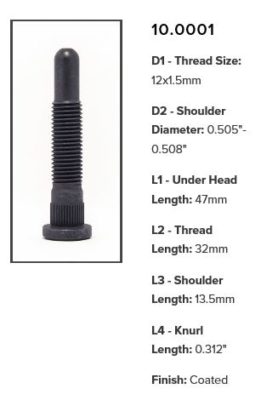 MSI products:
Wheel stud kit (pack of four)


Part #: 0000-04-5905
Price: $68.65
Applications include:

NA (1990-1993) 1.6L Miata  front & rear
NA/NB (1994-2005) 1.8L Miata front
NC (2006-2015) Miata front & rear
ND (2016-present) Miata front & fear
Mazda2 (all years) front & rear
Mazda3 (all years) front & rear
RX-8 (all years) front & rear

Lug nut kit (pack of four)

Part #: 0000-04-5906

Price: $27.20
Lug nut 12 X 1.5MM, 17mm hex, 60 deg seat, coated finish
Description: MSI lug nuts are machined with the strictest of tolerances that assure minimum chamfer to thread run out. Its custom baked-on coating provides quick and consistent torque values. The yellow color provides high visibility for your pit crew.

Applications:

MSI stud – all
Any 12 X 1.5mm stud
According to MSI, MSI's wheel stud/lug nut combination has consistently proven to be the quickest way off pit road.  MSI's product line has evolved as a result of direct input from many of NASCAR's leading teams. Understanding the needs of the NASCAR community and offering flexibility is what has set MSI apart from other manufacturers.
In addition to its proven NASCAR product line, MSI Racing Products has been producing Metric Styled wheel studs to meet the ever growing needs of sports car racing and after market wheels. Its products are being used in IMSA, SRO, SCCA, NASA, & other forms of professional and club racing.
Mazda Motorsports has ARP wheel stud kits for several Mazda applications.
Constructed of heat-treated 8740 Chrome-moly steel, they have a tensile strength of 200,000 psi. They are cadmium plated for extra durability. They are available for first and second-generation Miatas as well as MX-5s and RX-8s. Nuts are not included.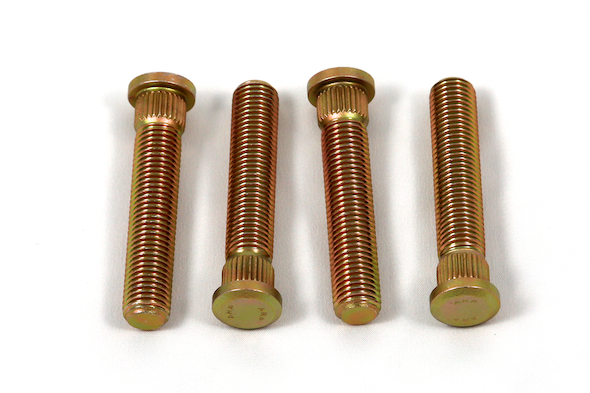 To order, log into the parts store on MazdaMotorsports.com or call 800.435.2508.
Prices are subject to change.