2018 Formula Enterprises 2 National Champion moves to Formula Atlantic
Flinn Lazier continues to make his march up the racing ladder, seeking to follow in his family's footsteps. "We do it for fun, but at the end of the day we get down to business, and we work hard for this in the off season and in season," says Lazier, the 2018 SCCA Formula Enterprises 2 champion. "My goal is to make it all the way to the top. We'll keep doing it, keep working toward that goal. We set a goal for Indy car and to try to be at the 500 someday, try to run whole seasons. After that, take it step by step."
Lazier's grandfather, Bob, and his father, Buddy, have already been there. Bob Lazier was the 1981 Indianapolis 500 Rookie of the Year, a decade after he won Formula B at the SCCA Runoffs. Buddy Lazier won the 1996 500 and was the 2000 Indy Racing League champion. And then there's his uncle, Jaques, who also won an SCCA National Championship before going on to race and win in Indy cars.
Like his uncle, Flinn started in Formula Vee, then Flinn moved on to Formula Enterprises. As he saw how the competition was stacking up, he made the decision to switch to the updated Formula Enterprises 2. Both FE and FE2 classes raced at the 2018 SCCA National Championship Runoffs at Sonoma Raceway (in the same race group), But Lazier saw what looked like a deeper field in FE2.
"The biggest thing was the competition, like Scott Rettich, Jim Davenport, Paul Schneider, Brandon Aleckson and Liam Snyder," says Lazier. "I think it was that lineup that made us make the switch [to FE2]. Obviously having a little more power and having a new gearbox is something they're moving toward and we support – that was a large incentive. But, I think, the FE2 field was a little more stacked."
The fact that he sought the field with more competition, and won, indicates how serious he is about racing. Lazier had a tough fight for the pole with Snyder, and narrowly eked it out; but the race wasn't nearly as close, with Lazier taking the lead in his Tivoli Lodge/Bell Helmets/Stockit SCCA Mazda FE2 on the start and never looking back.
"We were shocked when Liam set a time, that at the time was close to one second faster than our quick time [early in the week] – that snuck up on us big," Lazier recalls. "The team worked super hard that Wednesday and Thursday to give us everything we needed. It was like 0.04sec. After that and going into race day, we had no idea what to expect on Liam's racing consistency. We had been consistent all week and I was super confident in our package. But to be honest, at no point was the race super relaxing and I never knew how large of a gap I had on them."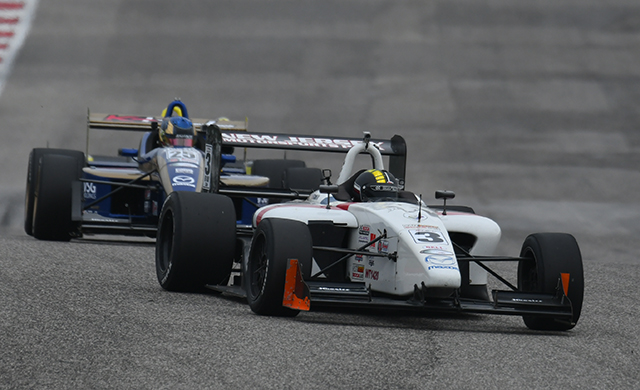 The Runoffs win earned Lazier an invite to the Mazda Road to Indy Shootout, which didn't go his way. But he continues his racing journey, so far in 2019 competing in Formula Atlantic in SCCA. He took both races in the Hoosier Super Tour at Circuit of the Americas in February, and despite what his family has done in motorsports, it is, he insists, a no-pressure situation.
"I don't feel they hold any expectations against me, and I don't feel any pressure," he says. "We just continue to grind and do our best and raise money for our program and continue to do what we love. We just continue to pursue the passion."