Cold temperatures and rain in the second round of the SCCA Hoosier Super Tour brought wet weather masters to the fore
Texas isn't immune to the bitter cold that has invaded most of the country, but despite the temperatures in the 30s and rain at Circuit of the Americas, the SCCA Hoosier Super Tour hosted by the Lone Star Region – appropriately dubbed the Polar Prix –raced on.
Those wet, cold and slowly drying conditions were a factor right away on the 20-turn, 3.427-mile circuit. Five-time Hoosier Super Tour E Production runner-up Breton Williams started on the front row in the No. 52 Breton Williams Racing/First Wealth Financial Group/G-Loc Brakes/Hoosier Mazda MX-5. Unlike competitors Matt Reynolds and James Rogerson, however, Williams elected to test the track conditions on Hoosier rain tires. After following Rogerson's BMW for the opening lap, Williams slipped by and began to open up a lead on Reynolds.
That lead grew when Reynolds, a three-time SCCA National Champion, spun twice on slicks. But by the second half of the 25-minute race, Williams was searching for water to cool his tires while Reynolds looked like he could make a race of it. Williams did enough to keep a gap, however, and cruised to his first career Super Tour victory by 19.278 seconds.
"It was wet, and I had more traction because we made the right tire choice," Williams said after the race. "As long as I could stay in the water, we could keep pressing on. It feels great. We're tired of coming in second, but we have yet to beat a National Champion in the dry. That's the mission."
Williams picked up his second Hoosier Super Tour win the next day, still in wet conditions.
With the track dry but frigid for the start of the Spec Miata race, a couple of veterans emerged to put on a battle. Jim Drago and Danny Steyn started on the front row, survived some slight contact in the front of the field, then ran in a line with Steyn poking a nose in front on at least one occasion. The pair came home just 0.229-second apart at the checkered flag, with Drago's No. 2 East Street Racing Mazda Miata in front.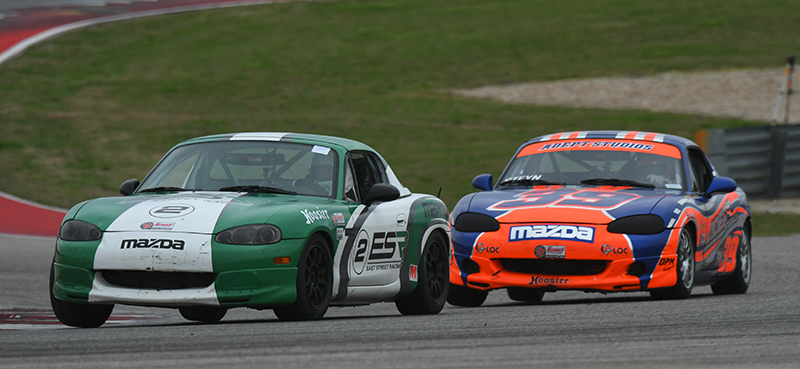 "It was a good race," Drago said. "There was a little contact in Turn 1. I got sideways, I think Danny got hit, and after that it just sorted out. I tried to drive consistent laps. Midway through the race, Danny tried me at the end of the straightaway and I did the over-under and passed him back."
Darryl Wills had a fantastic return to auto racing after a three-year sabbatical. The former Formula Mazda National Champion had taken a break, but came back at COTA with a win in Formula Mazda.
"It's a three-year layoff," Wills said. "I did some other things, but you miss it. I've been racing something since 1974 and this is the first time I've laid off. I'm really happy to be back, and see all the familiar faces. It's fun."
The tricky track conditions continued on Sunday. Still wet and cold from the weekend (and morning) rains, there was no doubt that the correct tire setup for the 35-minute (or 14 lap) races were grooved rains.
It was yet another impressive display in Spec Miata; but this time, Danny Steyn, already a winner that morning in Super Touring Lite, walked the field in his No. 39 Adept Studios/Rossini Engines/OPM Autosports/G-Loc Brakes Mazda Miata.
Chased by a field that included Michael Carter, Matt Reynolds and Drago in the top five and utilizing the rain knowledge from two groups earlier, Steyn finished the 12-lap race with an 8.650-second margin of victory.
"Fortunately, I did have the STL race," Steyn said. "I used that to go left and right, deep and early, try every single approach, and that paid off. And, of course, I love the rain. There's nothing better than being sideways in a Miata, it's such a beautifully balanced car."
While it appeared to be better conditions in the afternoon, a quick review of winners in the "wings and things" group suggested otherwise.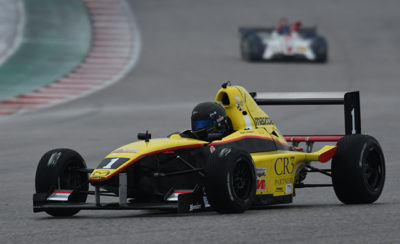 "It was definitely not a slick tire track," Mark Snyder, the Formula Enterprises winner for the second time of the weekend, said after every driver in the FE field elected to go out on slicks. "I wish I put the clear visor on, I wish we put wet tires on, but you make mistakes and we still all ended up keeping it out of the wall."
Meanwhile, Nathan Ratton bested the Formula Mazda field on his rain tires.
"At the beginning, I didn't think rain tires was the right setup," Ratton said. "Then I got on track and I saw Mark Snyder hit a puddle and I thought, alright, this is the right way."
In addition to Williams in EP and Snyder in FE2, several other Mazda drivers won on both days at COTA, including Flinn Lazier in Formula Atlantic, Robert Vanman in Formula Enterprises and Larry Svaton in GT-Lite. Todd Slusher and Darryl Shoff split wins in Prototype 1 driving similar Elan DP02/Mazdas, and NC MX-5s won in Touring 4 both days, with Tim Wise taking the victory on Saturday and Ron Munnerlyn winning on Sunday. Justin Elder took the Super Touring Lite win on Saturday in a Miata.
The SCCA Hoosier Racing Tire Super Tour continues with the third weekend of the season, March 15-17, at Michelin Raceway Road Atlanta. More information can be found at SCCA.com.
SCCA Hoosier Super Tour
Circuit of the Americas
Austin, Texas; Feb. 8-10, 2016
Saturday Provisional Mazda Winners
Class: Driver; Hometown; Region; Car
E Production: Breton Williams; Clinton, Iowa; Great River Region; Mazda MX-5
GT-Lite: Larry Svaton, Alvin, Texas, Houston Region, Mazda MX-5
Formula Atlantic: Flinn Lazier, Vail, Colorado, Colorado Region, Swift 016/Mazda
Formula Enterprises: Mark Snyder, Southlake, Texas, Texas Region, Formula Enterprises/Mazda
Formula Enterprises 2: Robert Vanman, Allen, Texas, Texas Region, Formula Enterprises/Mazda
Formula Mazda: Darryl Wills, Houston, Texas, Houston Region, Formula Mazda
Prototype 1: Todd Slusher, Las Vegas, Nevada, Las Vegas Region, Elan DP02
Super Touring Lite: Justin Elder, Lakeville, Minnesota, Land O'Lakes Region, Mazda Miata
Spec Miata: Jim Drago, Memphis, Tennessee, Mid South Region, Mazda Miata
Touring 4: Timothy Wise, Santa Cruz, Calif., San Francisco Region, Mazda MX-5
Sunday Provisional Mazda Winners
Class: Driver; Hometown; Region; Car
E Production: Breton Williams, Clinton, Iowa, Great River Region, Mazda MX-5
GT-Lite: Larry Svaton, Alvin, Texas, Houston Region, Mazda MX-5
Formula Atlantic: Flinn Lazier, Vail, Colorado, Colorado Region, Swift 016/Mazda
Formula Enterprises: Mark Snyder, Southlake, Texas, Texas Region, Formula Enterprises/Mazda
Formula Enterprises 2: Robert Vanman, Allen, Texas, Texas Region, Formula Enterprises/Mazda
Formula Mazda: Nathan Ratton, Rockwall, Texas, Texas Region, Formula Mazda
Prototype 1: Darryl Shoff, Reading, Pennsylvania, Northeastern Pennsylvania Region, Elan DP02
Super Touring Lite: Danny Steyn, Fort Lauderdale, Florida, Florida Region, Mazda MX-5
Spec Miata: Danny Steyn, Fort Lauderdale, Florida, Florida Region, Mazda Miata
Touring 4: Ron Munnerlyn, Bennettsville, South Carolina, Central Carolinas Region, Mazda MX-5