The NC Miata could be the ideal solution for club racers
The latest generation of Miata, the ND, is still gaining steam; it's extremely popular in autocross, and nearly 200 MX-5 Cup cars have been produced. The first generations of Miata, the NA and NB, are probably the most raced models of car worldwide, and Spec Miata remains one of the most popular classes in SCCA and NASA. Meanwhile, the third-generation MX-5, the NC, hasn't seemed to achieve that level of popularity among racers. But that's about to change.
The first iteration of MX-5 Cup was popular, and many cars were built for the class. The NC has won championships in Pirelli World Challenge Touring Car and TCA. Danny Bender won the 2014 Touring 4 national championship in SCCA club racing with an NC, and Danny Steyn is the most recent SCCA national champion in an NC, having won the 2018 SCCA Super Touring Lite title. On top of that, the Spec MX-5 Challenge series had a successful first season in 2018 and is growing for the coming race season. The heart of the NC, the MZR engine, powers everything from SCCA Formula Enterprises 2 and Prototype racers up to (in turbocharged MZR-R) form, Indy Lights cars and Mazda's RT24-P Daytona Prototype International car. With all of that, though, there are a lot of NC-based racecars sitting idle.
Consequently, Mazda Motorsports sees an opportunity to get more NCs on track with a national spec class based on the third-generation platform, although it should be noted that the idea is to supplement – not replace – Spec Miata.
The potential exists for a platform that could not only be raced in a spec club racing class but also in SCCA T4, NASA ST5 and the Spec MX-5 Challenge with only minor alterations. To that end, Mazda Motorsports is not only studying the best way to build a spec NC, but is also offering additional incentives to people already racing the cars.
"We believe it's time to bolster the NC and give it additional support," explains David Cook, Manager, Business Development at Mazda Motorsports. "If you run an NC Miata, you're going to get an additional contingency bonus to help support the NC owner in one of many ways, working toward a spec class with NASA and SCCA."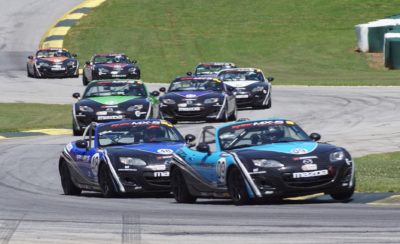 Those bonuses will come in the form of the new parts points for T4 and ST5 racers. In addition, Mazda Motorsports is offering extra contingency to T4 NC racers who compete in individual races in the Spec MX-5 Challenge. That payout will include both cash and parts points.
With the aim of a spec class, Mazda Motorsports has been working with SCCA and NASA leadership and rules committees to build a car that meets several criteria. The next step is to build a test mule.
Josh Smith, Mazda Motorsports' specialist for technical development, is helping build that first car. "It will be an exciting, fun car to drive – that is the first of four pillars we have in mind. Techable is another pillar, which is very important in a spec series. We want to provide a roadmap for tech procedures and specs that are very defined – that it's as black-and-white as we can possibly make it. Affordability is one of the major considerations when people go to build a club racing-level car. And reliable; we don't want to put together a spec package that fits the first three criteria but is a ticking time bomb. It's not fun to repair it every weekend, so we're trying to build a lot of reliability and durability into the platform."
The target price for a complete build is around $30,000. Current NC MX-5 race cars for sale range from around $20,000 for a former MX-5 Cup car up to $27,500 for the Runoffs pole sitting T4 MX-5. These prices are in the ballpark of a nationally competitive Spec Miata. Mazda Motorsports is currently in conversations with shops and engine builders to nail down specs and make sure the NC can meet its goals, with the idea of having a test mule running in races soon.
"We need to get an NC in a close-to-identical version of the spec running around in SCCA's Touring category," says Cook. "We want to make sure that it's a competitive car in Touring and in ST5 in NASA as we build critical mass to establish a national class within both NASA and SCCA. And we're excited to be closely working with the Spec MX-5 Challenge organization in this endeavor. We've got enhanced contingency, and we're going to be coming out with significant price discounts to penetrate the grassroots market with an affordable race car so they can buy it."
Look for updates to the spec NC process and progress later in the year. And if you have an NC sitting idle, now might be a good time to think about getting it race ready and back out on track!