Focus on Road to 24 brings new opportunities and expanded awards in MX-5 Cup
The 2019 pro racing season in North America is about to get underway, with the Rolex 24 at Daytona this weekend, and World Challenge TC America and Battery Tender® Global Mazda MX-5 Cup presented by BFGoodrich following in March. The offseason has seen some big changes for Mazda, many series and Mazda teams.
"Everyone has seen us have a very wide footprint, including open wheel and closed wheel – the Mazda Road to Indy and the Mazda Road to 24 – over the last dozen years," says John Doonan, Director, Mazda Motorsports. "We made a strategic shift last fall and put the sole focus on Mazda Road to 24 and the sports car side, starting with grassroots racing, where we always have a firm commitment to provide the best service, technical support, parts support and contingency support to our 11,000 grassroots racers. Battery Tender® Global Mazda MX-5 Cup continues to be some of the best racing on the planet, which we're really proud of. We just sold chassis number 200. The field sizes for the 2019 season look to be quite strong. We have the new, higher-revving, higher-horsepower 2019 road car, and that will carry over to the Global MX-5 Cup."
At the pinnacle of Mazda's North American racing program is the Mazda RT24-P run by Mazda Team Joest in the IMSA WeatherTech SportsCar Championship. That program underwent some changes in the offseason as well, with some new team members on the pit wall and some new drivers in the seats. The offseason efforts have shown in pre-season testing, where both the No. 55 and No. 77 Mazdas were fast at the Roar before the 24, setting an unofficial track record. That all bodes well for this weekend's IMSA opener.
"I think what fans saw at the Roar was a result of a massive amount of work by all of the partners. Multimatic took on a major role of offseason development and testing, brought massive resources to the table on the engineering side and simulation side. AER, our engine partner, has continued to step up their game and Joest Racing continues to be the facilitator of the program," says Doonan.
Longtime Joest Racing engineer Jan Lange has been promoted to CEO of Mazda Team Joest. David Wilcock will lead the engineering on the No. 55, driven primarily by Jonathan Bomarito and Harry Tincknell, with Olivier Pla joining for the endurance races. Leena Gade, who engineered Audi to many 24 Hours of Le Mans victories, will head up that side of the No. 77, driven by Tristan Nunez and Oliver Jarvis. Timo Bernhard, a two-time World Endurance Championship champion, will partner with Nunez and Jarvis for the long events.
"Leena has come to us as a valued member of the Multimatic engineering staff. She is a terrific addition and brings a wealth of legendary experience to our program on the No. 77 car. On the No. 55 car, Dave Wilcock also comes from the Multimatic family. And a few new drivers have come to us in a variety of ways, who bring tons of value," Doonan says.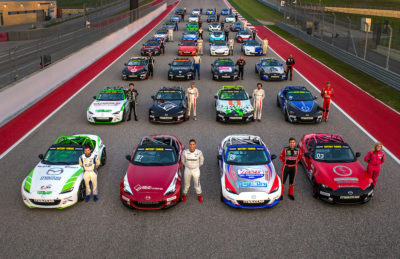 The Battery Tender® Global Mazda MX-5 Cup recently announced its 2019 schedule, which begins at Circuit of the Americas with IndyCar on March 23-24. The schedule also includes Barber Motorsports Park, Road America, Mid-Ohio, Portland and Weathertech Raceway Laguna Seca. Drivers will have the opportunity to win $350,000 in awards at season's end.
The series will have two classes in 2019, one based on the more powerful 2019 ND2 Miatas, or cars that have been converted to 2019 specs, and one for the 2016-'18 ND1 cars. "We're going to offer the champion of the ND2 class the traditional $200,000 scholarship to go to the next level of racing and the ND1 champ will be eligible for $100,000, which he or she will be able to use for the ND2 championship for the 2020 season," says Doonan.
The Global MX-5 Cup car is also eligible and has been popular in World Challenge TC America's TCA class. While it's unknown at this time who might be racing one in 2019, there is expectation for the car to be represented and competitive.
"The TCA category remains the place for the Global MX-5 Cup car to race, and we expect some customers to run there in the 2019 season," says Doonan. "We continue to work with the folks at World Challenge and our customers that race there in hopes of making sure their ownership of the car has additional value. There is certainly opportunity for the car to show well there, especially given the new powerplant."
One aspect missing in Mazda's sports car ladder has been a place for MX-5 Cup champions to step up to and remain in the Mazda family, other than World Challenge TCA. Doonan promises an announcement later this year regarding a new program that will provide opportunities for MX-5 Cup graduates, possibly as soon as 2020.
Overall, Doonan says he has never entered a season as cautiously optimistic as this one, especially regarding the promise shown by the prototype program. Look for more information on Battery Tender® Global Mazda MX-5 Cup and World Challenge TCA as the season openers for those series near.