Set to Compete in IMSA Prototype Challenge
Daytona Beach, Florida (4 January 2019) –2018 Idemitsu Mazda MX-5 Cup presented by BFGoodrich Champion Nikko Reger will convert his $200,000 prize package from Mazda into a new opportunity on the Mazda Road to 24 as he will move up to race in the 2019 IMSA Prototype Challenge championship.
Reger clinched the Mazda MX-5 Cup championship in a thrilling finale at Monticello Motorsports Park in October, where the six drivers eligible to take the title fought it out to the finish. Reger has bee signed by Forty7 Motorsports and will co-drive with his younger brother Timo for the six race championship that will start this weekend at Daytona International Speedway.
The student-racer was able to balance his busy racing schedule with his academics to clinch the title, and is looking forward to his next move.
"After winning the Mazda MX-5 Championship at Monticello with Slipstream Performance, the first thing I did was sleep a lot!" said Reger. "But, soon after I caught up on some sleep, I competed in the MX-5 Challenge, took a bunch of finals, and tested a bunch of really, really cool cars! Without the help of the Mazda Road to 24 Scholarship, I would have never dreamed about driving a USF2000 open wheel or an LMP3 racecar. Fortunately, the $200,000 Road to 24 Scholarship that the Champion of the MX-5 Cup receives has opened up so many doors and opportunities for me, that it has made this off season very exciting!"
The support that Mazda Motorsports provides isn't limited to the financials, as Reger attests.
"John Doonan from Mazda Motorsports was crucial in helping to guide me on this next step in my racing career, and I can't thank him enough for all the work he did to help me find the right seat for 2019," said Reger. "The IMSA Prototype Challenge is an incredible series with some very exciting changes lined up for 2019. The LMP3 platform, specifically the Norma M30 fielded by Forty7 Motorsports is an astonishing piece of machinery with lots of power, downforce, and enough carbon fiber to make modern hyper-cars look bad!"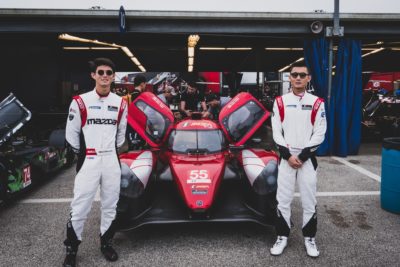 Reger knows that making the move from the hugely popular Mazda MX-5 Cup platform will come down to more than just learning how to race in a brand-new and very different platform.
"There is a huge learning curve to overcome, with new car, new team, new racing layout and tracks, I have a lot to learn," said Reger. "But, I also think that the Mazda MX-5 Cup has prepared me well for the challenges to come. The Mazda MX-5 Cup has some of the tightest, most challenging racing in the world, fortunately, you learn a lot, between the ultra-competitive drivers, the data acquisition, and the technicality of making an MX-5 Cup car go fast can teach a lot. So I look forward to learning how to really drive to the limit of the Norma M30, I think that I can directly apply what I learned last year to what I need to do this year."
With his father John attending all of his events, racing is a key activity for the Reger racing family, and that bond is only going to get stronger this year.
"I couldn't be happier that I will be racing alongside my brother Timo for the full season!" said Reger. "He is a skilled veteran of open wheels with the hardware to prove it and I don't trust anyone more than him to drive with me. It is all very exciting and it has all happened so quickly! Thank you to Mazda, the Road to 24 Scholarship, Forty7 Motorsports, Sparco, Slipstream Performance, my family, and all the others that have helped to get me this far!"
While Reger has shown the competition that he can be hard to keep up with, he makes it easy for his followers on social media, posting updates at @Nikkoreger on instagram, facebook and youtube.
The Daytona race will be streamed live on IMSA.tv Jan 5th.