A Spec Miata stalwart and recipient of the Spirit of Mazda award leaves a big hole in the Mazda community
Dave Wheeler – racer, owner of Advanced Autosports, writer of The Spec Miata Constructor's Manual, one of the first recipients of the Spirit of Mazda award and a friend to Mazda racers everywhere – passed away on Dec. 12, leaving a massive hole in the Mazda Motorsports community. He joins his wife, Ann O'Malley, herself a posthumous Spirit of Mazda winner, who passed away earlier this year.
In lieu of flowers, the family has requested memorials be made in Dave's name to Lemons of Love.
You can do so by clicking here.
"First and foremost, he cared about his family and took care of them above all else, always," says John Doonan, director of Mazda Motorsports. "Losing Ann was a big blow, but he kept busy and tried to focus on his family.
"Second, Dave was and always has been, through and through, a racer. What he accomplished by building a successful racing business is rare. Yet, he did this by focusing on giving his customers good value and an even better experience. Don't get me wrong, he had fun as a driver, for sure, but I think he got even more enjoyment out of seeing his customers enjoy themselves behind the wheel and at the track. Dave was a racer who built a business for racers. Frankly, he did what we stand for at Mazda."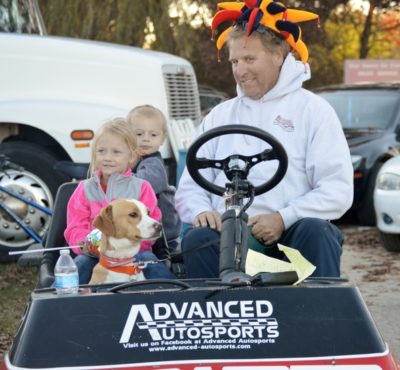 Wheeler built a business, but also a family. O'Malley wasn't involved in racing when they met, but she came to love the sport and became immersed. She jumped in and took care of Advanced Autosports' customers at the track, she helped run the business, and she credited the crew with keeping Advanced Autosports going when Wheeler was battling illness. But that family went well beyond relatives and employees.
"He always says he was a child that played with toy cars, and he still does the same thing as an adult," said O'Malley in 2015 when Wheeler won the Spirit of Mazda. "He's very into his cars and customers and he considers everyone one big family."
Wheeler not only put more than 150 Spec Miatas on the track for customers, he gave back to the community by serving on the Spec Miata Advisory Committee for SCCA. His dedication and helpfulness to many, customers and non-customers alike, was evident as Spec Miata Facebook pages and forums lit up with tributes to Wheeler as news of his passing spread: "Amazing man with a big heart," said one; "…an ambassador of Spec Miata and always willing to pass on his knowledge to fellow racers," said another. That helpfulness and hard work for the sport comes down to the fact that he was simply passionate about racing.
"A few years ago, Dave and Ann came to the Rolex 24 as Mazda guests," recounts Doonan. "Dave had been part of teams competing there in the past. As a 'returner' to the 24-hour race, you would expect that about 2 or 3 a.m. you would see him napping in his rental car or off in a corner of a hospitality suite somewhere catching a nap. Not Dave and not Ann. They were front and center on our outdoor patio enjoying every minute of the race. That is what real racers do.
"I will miss you, Dave, for what you brought to our Mazda program and our sport overall; but most of all for the friend you were to me and hundreds and hundreds of others."