Deana Kelley tells us about 2019, including checking the Nürburgring off her bucket list, and her obsession with E Prod RX-7s
Deana Kelley made her first foray into SCCA road racing in 2018, running the U.S. Majors Tour race weekend at Sonoma Raceway in Spec Miata. She returned to the track for the Runoffs in October, this time to help her pal and autocross co-driver David Ogburn III who was racing Spec Racer Ford Gen3 after taking the win in the ProSolo Finale in the 2016 Miata they share. Kelley, the 2016 SCCA Solo National Champion in C Street Ladies, is branching more into road racing, adding some LeMons races as well as an outing at the Nürburgring next year.
"Next year I won't be autocrossing as much so I can do more road racing," she explains. "I'm working with an associate to try to make it out to the Nürburgring next year. Obviously a lot of bits and pieces have to fall into place for that, but we've got the licensing part squared away and we've found a car we can rent. So the bigger bits seem to have been taken care of for the moment."
The race will be in the Rundstrecken-Challenge Nürburgring, or RCN, and be a support race for the popular 24 Hours race. While she'll be running that in a BMW, she's looking forward to her next race outing in a Mazda.
"I'll be finding one of the SCCA races that fits into my schedule again and doing that. I'm saving money right now to buy a car, so if I don't have a car yet, I'm renting a Spec Miata as they're easier to find as rentals. I have this sick love for E Prod RX-7s, but Spec Miata is kind of the easy button to go racing. It would be simpler and not as steep of a learning curve as far as dealing with race cars. But if I happen upon an E Prod RX-7 at the right price, I might make some terrible decisions," she laughs.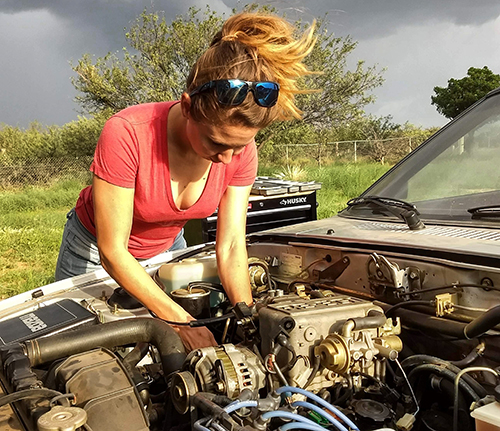 She already has a first-generation RX-7, but with only 34,000 miles on the odometer, it's too clean and pretty to turn into an E Production car. "But I love that car so much and I can only imagine it out on a racetrack," she says.
Kelley, whose professional life is split between building gear drives for The Supercharger Store in her hometown of Tucson and traveling around the country doing ride-and-drive programs and teen driving schools, explains that she has found that road racing has improved her overall driving.
"[With road racing] I've been putting a lot more focus on my driving," she says. "Autocross is over so quickly and you only get so many runs, so being able to get on track and do lots of laps has enabled me to refine different parts of my driving and fix some bad habits that I have, just because I can practice it over and over again.
"We've put together a sim setup at home so I can keep practicing and doing laps somewhere – it's a lot less expensive to do laps on a sim than it is to find a car and go race," she says. "[It's] the whole practicing race craft again – to pass cars and be passed, having the awareness of everything around you. In autocross, all you really have to focus on is the cones in front of you, and there's not much else you need to worry about; on the track, you have to maintain really good situational awareness."
Although Kelley may not have all her racing plans for 2019 nailed down, she's gearing up for a race in February. For this one, though, she's not using Mazda power – she is the motor. She's entered to run the famed 24 Hours in the Old Pueblo mountain bike race in Tucson. And she plans to do it solo. On a single speed. If you had any doubts that Kelley wasn't up for a challenge and a bit of adventure, you can certainly erase those. That race could make her laps around the Nordschleife look like a piece of cake.