Spec Miata racer will make MX-5 Cup debut in 2019
IRVINE, Calif. (December 7, 2018) – After an all-day evaluation of four young drivers at the Bondurant Main Track at Wild Horse Motorsports Park in Phoenix, Arizona, eighteen-year-old Michael Carter from Savannah, Georgia was selected as the winner of the 2018 Mazda Road to 24 Shootout.
With the $100,000 Mazda Motorsports scholarship awarded to Carter, he will compete in the 2019 Idemitsu Mazda MX-5 Cup presented by BFGoodrich. Carter, a student at the Georgia Institute of Technology, took part in the Shootout along with Matthew Dirks, Hannah Grisham and Loni Unser.
"What a journey this has been," said Carter. "The reason I started racing a Mazda was because of the Mazda Road to 24 Shootout. It was our one single goal all along and to finally accomplish that is surreal. The process begins next week of getting ready for next season, for the series test at Barber, and to put together a good season in the MX-5 Cup."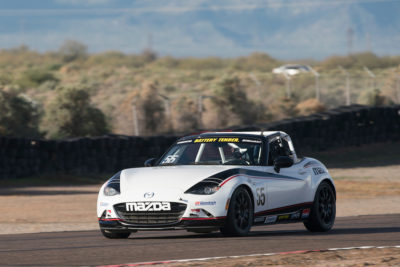 To earn his invitation to the Mazda Road to 24 Shootout, Carter put together an impressive 2018 season in SCCA racing as he finished second in the SCCA Hoosier Super Tour Points Championship, won the Spec Miata Challenge and won in Spec Miata at the American Road Race of Champions.
"Each year, it is exciting to see the next batch of talent that s in the pipeline," said John Doonan, Director, Mazda Motorsports. "I heard something from Michael and his father that really hit a chord with me which was that they built a Spec Miata with the sole purpose of going up the Mazda Road to 24 ladder. That really speaks to the challenger spirit at Mazda, to why we have the Shootout, and to the family that we have at Mazda. Michael is the driver today who walks away with the scholarship, but we had four families come together here who have all gone racing together. For all of us at Mazda, it's very rewarding to give these families a chance to go racing together. We look forward to watching Michael take the next step in his career in next season's MX-5 Cup."