Mazda Motorsports is bringing in parts to support those who can use Japanese Domestic Market components
Mazda Motorsports makes every effort to give racers the tools they need to be successful, sourcing performance and competition parts from a variety of sources. Some of those components are Mazda parts while others come from different suppliers, but one source for parts in the Mazda Motorsports selection is sometimes overlooked – parts made for Japanese domestic market vehicles that came to the U.S. with different pieces, or parts developed by Mazda Japan's performance division, Mazdaspeed.
"Among the most popular are body components for third-generation RX-7s," says Mazda Motorsports Specialist James Painter. "Mazda continued to make that car in Japan from 1996-2002. The cars got better – they got better brakes, better aerodynamic body components, some engine components – we even have a bigger turbo. Some JDM items of note that we carry include the front bumper, lip spoilers and bigger brake calipers and rotors."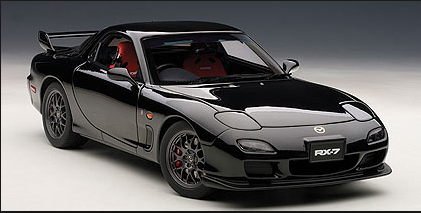 Painter notes that even though the parts were originally made for a street car, they can't be used on the street because they weren't for the U.S. model – the parts can only be used for competition purposes. He also adds that unlike discounted stock parts and other competition parts, buyers don't have to be part of the Member Support Program to purchase the JDM parts.
It's not just RX-7 parts, though. "There are also Miata parts," Painter says. "Motor mounts, for example, from Mazdaspeed. They're 40-percent stiffer than stock. They'll fit all Miatas from 1990 on up. On the JDM side, a very popular component for racing is the Square Top intake manifold for the 1999-2000 Miata." The Square Top manifold has a larger plenum and straighter flow, boosting horsepower and torque, and is a direct bolt on.
If Mazda Motorsports isn't stocking a particular part, they may be able to get it, including parts for some of the older cars. Even discontinued parts may still be available for cars such as Protegés and 626s, along with the KL-series V6 engines that featured the Variable Resonance Induction System. Painter even has a Mazdaspeed rally manual with fun stuff for the 323 GTX such as suspension linkages, motor mounts and a limited slip differential, some of which is still available.
Most of the pieces available aren't online, so you'll need to call the Mazda Motorsports customer service specialists to find out what's available and order. Call (800) 435-2508 to order.