Sebring, Fl. (5 November 2018) – One lucky racer will earn themselves $50,000 in just 90 minutes of racing as Mazda stages the 2018 Idemitsu Mazda MX-5 Cup Challenge at Sebring International Raceway next weekend. A robust and diverse field of racers from around the globe, all utilizing the same Mazda MX-5 Cup machine, will take to Sebring for two 45-minute races.
The format is straightforward: the driver with the best combined results from the two races will win $50,000, while the runner-up will score $20,000 and the third-place racer will claim $10,000.
Both races will be streamed live at Mazda USA's YouTube page (https://www.youtube.com/user/mazdausa).
The 2018 event is the third consecutive post-season event staged by the Idemitsu Mazda MX-5 Cup presented by BFGoodrich. Two key traditions for the post season event, a big payoff and a strong international field of drivers, will continue once again this year.
While the 3.74-mile Sebring circuit has hosted the Mazda MX-5 Cup series in the past, the 2018 Challenge event marks the first-ever appearance at the track for the Mazda MX-5 Cup specification platform that was introduced ahead of the 2016 season. Nearly 200 editions of the identically-prepared machines that are built on the Mazda production line before being race-prepared by Long Road Racing have already been delivered, with a more powerful edition on offer for the 2019 season (https://mx-5cup.com/news/enhancements-for-2019-mazda-global-mx-5-cup-announced).
The Challenge event will close out the 2018 Mazda MX-5 Cup year of competition, which saw Nikko Reger claim the championship and a $200,000 support package from Mazda. Selin Rollan was the 2018 Rookie of the year, earning $75,000 in support from Mazda with the accomplishment. Both racers will look to add to their incredible record this year with a strong result in the dash for the cash next weekend.
Home Team Advantage? Sebring's Sick Sideways hopes so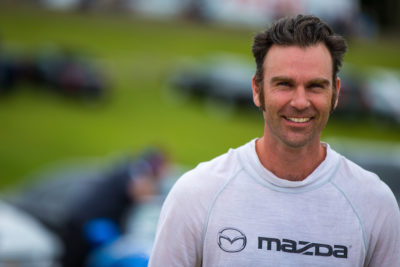 2015 Series Champion John Dean II calls Sebring home, with his Sick Sideways team based right down the road from the circuit. Sick Sideways, which claimed the 2018 Mazda MX-5 Cup Team Championship, will have a robust six-car entry for the two-race Challenge, with Dean himself returning to race duty for the weekend. Dean claimed both victories at Road America earlier this year and is looking forward to making the most of the home weekend.
Racing at Sebring is something special to Dean II, who is hoping to add to his collection of big days at the track.
"My first-ever weekend racing in this series was at Sebring, and the team (Sick Sideways) was nothing like it is now—it was just me and one other guy!" said Dean. "I think the track is the best in the country. There are places where it is very technical, and places where the draft is really important. I think there is going to be a lot of passing. I'd love to get out front and build a gap, but in this series that is nearly impossible! It is great that Mazda is putting up the money for this race. Let's face it, that is the big motivation for us all!"
Youth Movement: Two 14-year-olds up for the Challenge
Start them young—the Challenge event will see two 14-year-olds competing in the two races.
14-year-old karter Tyler Gonzalez will be making his first-ever start in the series as he looks forward to his 2019 campaign in the full Mazda MX-5 Cup season. The Texan will race for Copeland Motorsports as he transitions into race cars for the first time with the Sebring outing.
Robert Noaker has already claimed a Mazda MX-5 Cup victory in his first season in the championship with his rousing run from 15th on the grid at Mid-Ohio to victory lane earlier this year. The Pennsylvanian will hope that the Sick Sideways squad will make him feel at home on their home track (read about his journey here https://www.mazdamotorsports.com/2018/09/27/katie-noaker-watches-her-son-turn-pro/).
Noaker, who will be taking his first ever laps at Sebring, has prepared the same way a lot of his fellow racers do—by logging on to iRacing.com
"I've been doing a lot of simulator practice lately, and I'm hoping to pick up the track quickly when I get there," said Noaker. "I've heard that it's a very fast, bumpy track with a couple of blind turns. With the $50,000 prize, I think that people will be aggressive, but at the same time playing it safe. It's like a mini championship to where you have one bad finish and you're done.
"I'm sad that the regular season is over, but I'm excited to see what's in store for us next year," said Noaker. "I have definitely exceeded my expectations this season; I never thought I would get a win and multiple top five finishes in my first season. It does give me confidence, but anything can happen in a race like this!"
10 states, Puerto Rico, Japan, and Russia for International Roster of Runners
With so much cash on the table, it is not surprising to see such a wide scope of interest in the two-race Challenge event. Drivers from Puerto Rico, Texas, Georgia, Virginia, Alabama, New Hampshire, Pennsylvania, Florida, New York, Illinois, and California are entered for the weekend, as well as some new contenders from around the globe.
Soichiro Yoshida (Machida, Tokyo, Japan), Yuui Tsutsumi (Yokohama, Kanagawa Japan), will join countryman and series regular Racer Kashima, with Moisey Uretsky of Yekaterinburg, Russia making his debut with McCumbee McAleer Racing.
"Having drivers from around the world, and especially three racers from Mazda's home country, is really special," said John Doonan, Mazda North America Motorsports Director. "The word 'Global' is right in the name of this series and we continue to have international interest in growing this program. Having the Challenge event is a great way to showcase the incredible racing that comes with this Mazda MX-5 Cup platform, and we are thrilled to see the show that these racers will no doubt put on for us at Sebring."
Schedule of events
Teams will have the chance to test on Wednesday, November 7th, with the first official practice taking place on Friday, November 9th ahead of Saturday's busy day of practice, qualifying, and race #1 at 4:05 PM ET. Sunday will feature race #2 at 9:50 AM ET.
Both races will be streamed on Mazda USA's YouTube channel.
All sessions will have live timing and scoring hosted at https://mx-5cup.com/results/live-scoring with updates also available via twitter.com/globalmx5cup and https://www.facebook.com/MazdaMX5Cup/.