Driver coaching and parts support for Mazda racers, and a hospitality tent for Mazda families
Mazda Motorsports has long offered the staples of manufacturer support at the SCCA National Championship Runoffs, such as parts support, technical expertise, contingency and an annual dinner for its racers. Last year, Mazda Motorsports upped the ante by bringing in two pro drivers to offer coaching to racers. For 2018, the support continues to improve with a hospitality tent on site where racers, teams and families can relax and grab a snack, cold drink, and even lunch.
"It's intended to provide a comfortable atmosphere not only for the racers, but the racers' team and family," says David Cook, Mazda Motorsports Manager of Business Development. "Mazda owners and race fans that come by, which will include those from the Mazda corral on Saturday during the races, will be able to enjoy the comfortable atmosphere as well. There's going to be couches and chairs, and drinks and snacks all day. Lunch will be served Tuesday through Saturday when the track is cold for lunch. We'll have other giveaways and more activities, some swag, and we'll even have a couple of cornhole boards set up if people want to take a break and play a game."
The Mazda hospitality tent will be open from Tuesday morning through Saturday. It will also be the spot for racers to grab some hats or t-shirts and the place to sign up for and receive coaching from Tuesday on. (Pro coaching will be held Monday at the <Mazda parts trailer.) The hospitality tent will be on the hill overlooking Turn 7, above the Mazda group paddock.
For the coaching, Jonathan Bomarito, who races the Mazda RT24-P in the IMSA WeatherTech SportsCar Championship and has raced a variety of other cars, and Tom Long, who has raced everything form Spec Miata to the RT24-P, will be on hand.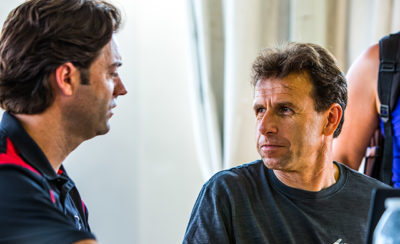 "We strive to help our racers at every event we can. And since we can help them have success at a high-profile race such as the SCCA Runoffs, we do," says Cook. "The pro coaching is another way to leverage our resources to better support the Mazda racers – support that no other manufacturer does."
Schedules and signup sheets will be available at the parts trailer in the Turn 7 paddock until Tuesday, when it will be at the hospitality tent. Bomarito will be on hand Monday through Wednesday, and Long will be available Wednesday and Thursday. Long will also do a track walk presentation on Thursday. Drivers should be prepared with onboard video queued up to the lap they'd like to have analyzed. Data can be reviewed as well, but onboard video is preferred.
Mazda will host its annual banquet for Mazda racers and families on Wednesday evening in a tent at the track, on the hill on driver's left between Turns 1 and 2. The banquet is always a celebration of Mazda racers' accomplishments throughout the year, but will also have presentations on the strategy for the third-generation (NC) MX-5 in club racing, where Mazda Motorsports intends to put resources behind boosting the car's profile, and possibly an update on the Penske Racing Shocks for Spec Miata. Grab your tickets at the Mazda parts trailer. Festivities begin at 6 with the program scheduled for 6:45, dependent on how late on-track action runs.
Speaking of strategies, Mazda Motorsports is also looking at hosting small meetings with racers from various groups, such as Touring and Spec Miata. "We did that at VIR and it was very productive," says Cook. "We talked about BoP, contingency, parts and tech support. We're going to offer these meetings on Wednesday at Mazda's hospitality tent (Touring at 11:30 am; Spec Miata at 4:00 pm), which will be opportunities to discuss those topics with Josh Smith and myself and provide feedback to the Mazda team. Through listening to our racers and teams, we hope to further enhance the customer experience."
From 1:00 – 1:30 pm on Wednesday at Mazda's hospitality tent, John Doonan, Mazda's director of motorsports, will host a Q&A in which all groups are encouraged to partake.
Mazda offers contingency awards to all classes Mazda's compete in, paying the production-based racers who win the Runoffs $5,000; second place finishers earns $2,500, while third receives $1,500; fourth takes home $1,250, with fifth at $1,000. Formula Mazda, Formula Enterprise (FE2 only), Formula Atlantic, and Sports Racers earn $4,000 for the win, $2,000 for second, $1,250 for third, and $1,000 for fourth. There is a $1,000 bonus for winning the Super Sweep as well – that's winning an SCCA Conference championship, the Super Tour championship and the Runoffs.
In addition, those who finish in the top three in their SCCA Divisional points championship, U.S. Majors Tour Conference or Super Tour points are eligible for tow fund money. Based on the distance from Sonoma, that amount can be up to $800.
For more information on Mazda's contingency awards for the Runoffs, click here.
Check with the parts trailer and, starting on Tuesday, at the hospitality tent for updates on what Mazda will be doing at the Runoffs, plus any adjustments to the schedules.