Portland, Ore. (27 August 2018) – The Idemitsu Mazda MX-5 Cup presented by BFGoodrich championship will make its first-ever appearance at Portland International Raceway this weekend as part of the Verizon IndyCar Series event weekend.
There are four races left in the 2018 Mazda MX-5 Cup season, which will see the drivers in the ultra-competitive field doing battle for a total of $290,000 in support from Mazda. The overall champion will receive a hefty $200,000 prize from Mazda to put towards the next level of their Mazda Road to 24 career, while the top Rookie will earn themselves a $75,000 check. A third category to watch for in 2018 is the Challenger Class presented by Monticello Motor Club, which will award the winner with a Mazda Experience worth $15,000.
Currently topping the leaderboard with 157 points is Nikko Reger (No. 01 Slipstream Performance), who stormed to the top of the charts with a strong start to the season after sweeping the Barber race weekend. But after a disappointing Mid-Ohio outing that saw his points advantage trimmed, he's hoping to rebound at Portland.
"Mid-Ohio was a rough weekend, but we are focusing on what went right," said Reger. "A lot has gone into Slipstream Performance and I getting this far in the championship, and I am grateful to run for as long as we have and to have done so well. Mid-Ohio was a hiccup in our successes, but we continue to work on the car and myself to keep our momentum going."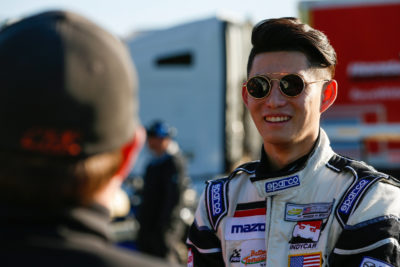 Like many of his fellow Mazda MX-5 Cup racers, Reger will be making his first-ever start at Portland and he feels like he's got a lot to learn.
"As we approach Portland International Raceway it's challenging because the track is not on iRacing, and college is starting again amongst many other things that are moving in my life," said Reger. "It's challenging to dedicate the time I want to studying Portland, but it's also a lot of fun. Everything is moving so fast off the track, I just can't wait to get back on it. The championship is tightening and everything comes down to these last two weekends. We hope to just run our races and not stress over what everyone else is doing."
While the Mid-Ohio weekend was one to forget for Reger, it was a memory of a lifetime for rookie racer Robert Noaker as he set a record as the youngest Mazda MX-5 Cup race winner at all of 14 years old. The run from 15th on the grid to victory not only boosted his points standings in the Rookie championship, but it also did no harm to his outlook on the final four races of the year.
"I definitely have more confidence going into Portland," said Noaker. "I knew I could run up front, but I was surprised that I could do it after starting 15th! We have been able to show speed all year and we were able to put it all together at Mid-Ohio. I realize I've been struggling with qualifying, so a large part of my focus will be on that in Portland."
Noaker will face the same challenge as several of his fellow drivers as he looks to learn the track in his first visit.
"I have found some unique ways to learn the track at Portland," said Noaker. "I feel confident that I can pick up the track quickly. Hopefully, it will be easier with no one else being there before, maybe it will level the playing field a little bit."
One racer who has both the rookie award as well as the overall championship prize in mind is 2018 MRT24 Shootout Scholarship winner, Selin Rollan (No. 87 Sick Sideways Racing). After securing his ticket to the 2018 Mazda MX-5 Cup season thanks in part to the $100,000 of Mazda scholarship winnings, Rollan repaid that faith with a victory in the season opening race weekend at COTA.
Also one to look for in the mix is Bryan Ortiz (No. 4 Copeland Motorsports), who claimed a huge victory in the second race at Mid-Ohio after a tough DNF in the first.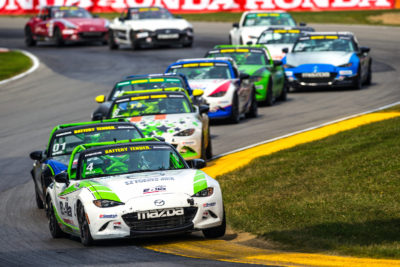 The Challenger class presented by Monticello Motor Club has seen three drivers stand out this season. Alex Wolenski (No. 56 McCumbee MacAleer Racing), Nigel Faulkner (No. 82 McCumbee MacAleer Racing) and Charlie Belluardo (No. 73 Flatout Motorsports) have been neck and neck with Wolenski topping the charts with 206-points, followed by Faulker at 184-points and Balluardo with 170-points.
With four races between Portland and Monticello still to play, there is plenty of racing to come and the Championship battle is only just beginning. Both races from Portland will be streamed live on the Mazda USA YouTube Channel, with coverage of the first race beginning at 3:00 PM EST on Saturday, September 1 and the second race beginning at 11:50 AM ET on Sunday, September 1.