From his first driver's school to national championships, Matt Reynolds won't stop
Matt Reynolds has made a name for himself as one of the top Spec Miata and E Production racers in the country. He is a two-time E Production National Champion, and won the SCCA Super Sweep (Conference champ, Hoosier Super Tour points champ and Runoffs winner) two times, once in 2014 and the other in 2016.
Like with many racers, though, the road really began with his dad.
"He's a big influence and a big supporter," says Reynolds. "He started out road racing motorcycles and did that for a long time, so he's run a lot of the tracks that we currently run on, and it's neat to talk about that."
His father has also done some vintage racing, and that's how he met Chris Campbell, the owner of Vintage Connection in Oklahoma City, who now serves as Matt's crew chief. But what initially got Matt hooked was going to racing school at Laguna Seca, which led to the school series and, eventually, because of Campbell, to Spec Miata with his brother.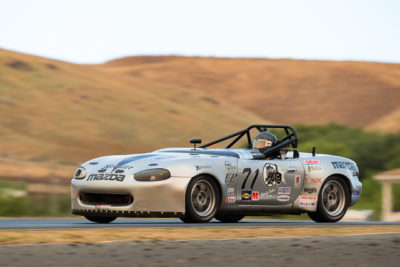 "We started running down in Oklahoma and Texas primarily with NASA and just loved it," Reynolds says. "The competition was there even though we were both mid-packers, so it was a blast always. There's always somebody to race with. Through the years I just kind of picked up speed a little bit and learned to give feedback to Chris to try and set up the car better; that was a little bit of a learning curve for me."
As he started to become more successful in Spec Miata and started running more toward the pointy end of the field, he says he picked up things quicker seeing what the fast guys were doing. That's especially true on the racecraft side of things. Watching the guys at the front really helped him progress.
Eventually, he started thinking about racing another car, purchasing an E Production Miata from Terry Jesk seven years ago. With some help from Jesse Prather Motorsports, he has turned the car into a winner.
"It kind of keeps you fresh," Reynolds explains. "With the E Production car, there are more things to mess with, but having the background and the racecraft in Spec Miata and learning consistency is really important. So that helped me out in the E Production class. Vice-versa, it pushes me to be more aggressive in the Spec Miata. And going back to the Spec Miata, it kind of slows things down and I'm able to see the track a little better."
Away from the track, Reynolds lives in San Antonio with his new wife Taylor, where he works on the finance side for a commercial real estate developer. Other hobbies include mountain biking and floating down the river on a hot Texas day. But racing remains his first love.
"I've been racing about 16 years," he says. "I love it. I don't ever want to stop."