Chicago club racer takes a shot at the Idemitsu Mazda MX-5 Cup
Thomas Bernacki couldn't have planned it better if he tried. With the Idemitsu Mazda MX-5 Cup presented by BFGoodrich® Tires accompanying the Verizon IndyCar Series at Road America only a week after the SCCA June Sprints, where Bernacki won a pair of races in Touring 4, it was the perfect opportunity to enter his first professional race – which happened to be at his home track.
"I thought it would be an excellent transition from racing in a club series to racing in a pro series at the same track on back-to-back weekends," said Bernacki.
The 23-year-old racer, who works in the family business of DPR Art Rescue, which restores antiques and art, is looking to race the full season of MX-5 Cup next year. To that end, he'll also race in the next MX-5 Cup doubleheader at Mid-Ohio Sports Car Course and perhaps one or two more events this year. For a person whose ultimate goal is the Rolex 24 at Daytona and the IMSA WeatherTech SportsCar Championship, Bernacki believes MX-5 Cup is the correct beginning.
"For me, it was an ideal transition from club racing into professional racing," he said. "My ultimate goal in racing is to become a professional driver in sports car racing, and I believe the MX-5 Cup series is a great steppingstone for anyone that wants to get into professional racing – the racing is very close, all the competitors come from various backgrounds, and Mazda does a great job with organizing various events and professional series. They do a great job with the Mazda Road to 24 ladder and the Mazda Road to Indy ladder, and it's very encouraging to have a manufacturer that is so involved."
Bernacki has been racing his Touring 4 NC MX-5 for two years, racing an NA and NB Miata in Spec Miata prior to that. Consequently, Bernacki has now raced every generation of Miata, and driving the T4 car and the MX-5 Cup car on consecutive weekends gave him a good idea of how the two compare.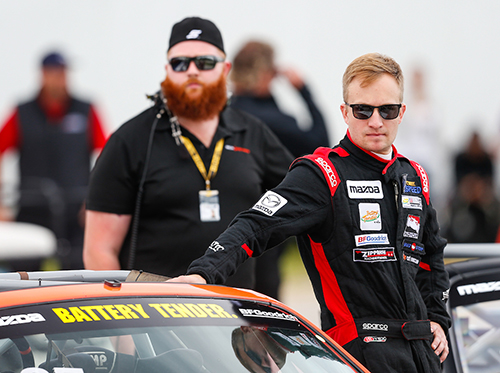 "The main similarities are the fact that both cars have power steering and ABS brakes – the big difference is the T4 car is about 300lbs. heaver and we have a hard top," he says. "The overall drivability between the two cars is fairly similar. Since the MX-5 Cup car is so much lighter and has so much grip, it's much quicker through the corners.
"The transition was actually pretty easy for me. I didn't have any issues moving from the T4 car to the Cup car. I felt pretty comfortable right away."
Bernacki feels the same way about the MX-5 Cup series, noting that the officials and drivers were very welcoming. And, he says, the racing was fantastic: "I had a lot of fun driving with some of the best drivers in the country and, honestly, it was a privilege to race against these drivers that have so much experience in the series. To race that closely with the top MX-5 Cup drivers was very encouraging for me, and overall I could say it was a positive experience and a priceless moment for my introduction to professional racing."
Bernacki counts among his supporters Med-Stop, which provides resources for drug and alcohol testing; DPR Art Rescue; and Zipprich Machinery Movers. He also has a partnership with Laps for Literacy, which distributes donated books to children in the Chicago area. He donates a dollar per lap that he races, and individual and corporate donors can pledge an amount per lap. Bernacki says he has donated more than $10,000 over the past few seasons, equating to 15,000 books distributed.
Bernacki finished 10th and 14th in his MX-5 Cup debut, not at all a bad result for his first time out, especially considering his qualifying effort of fourth place in the weeken'ds first race. He'll look to better that on July 27-29 when the Idemitsu Mazda MX-5 Cup visits Mid-Ohio Sports Car Course, another track that Bernacki knows well. Look for the live stream of the races on the Mazda USA YouTube Channel.