Toronto, Ontario (July 16, 2018) – As the Mazda Road to Indy made its annual pilgrimage north of the border to Ontario and the streets of Toronto, no driver or team combination did so with more national pride than Canadian Parker Thompson and Exclusive Autosport.
Thompson is from Red Deer, Alberta, while his team, Exclusive Autosport is from Saskatoon, Saskatchewan. Together, they have created a formidable pairing, first in the Cooper Tires USF2000 Championship Presented by Mazda and now in the Pro Mazda Championship Presented by Cooper Tire. The ability to race 'at home' has had a great impact on Thompson's ability to raise the necessary funding required to compete on the Mazda Road to Indy.
"Half of my sponsorship for the whole year comes from this one weekend alone on the calendar," commented Thompson, who currently leads the Pro Mazda Championship standings despite a tough double-header weekend in Toronto. "It doesn't get any better than racing in front of Canadian fans, especially being a Canadian. I love the track layout and that has been proven with three wins in the last two years."
After narrowly missing out on the 2016 USF2000 Championship to Anthony Martin, Parker Thompson joined Exclusive Autosport for their inaugural Mazda Road to Indy Campaign in 2017. The Canadian pairing scored three wins en route to a third-place finish in the USF2000 Championship last year and has already matched that feat half way through 2018 with three wins so far in Pro Mazda.
"At the end of the day, the goal is to provide fantastic equipment that is professionally prepped, team personnel that are professional, passionate and motivated," said Michael Duncalfe, founder of Exclusive Autosport and a former Pro Mazda racer himself. "I want to provide opportunities for young drivers to come into our program and showcase their talent on the world stage and enable them to move up the Mazda Road to Indy ladder system and one day become Verizon IndyCar Series drivers."
Thompson, now in his fourth year on the Mazda Road to Indy, endured a tough weekend in Toronto that saw him finish eighth twice with damage to his car in both races. The likeable Canadian heads the Pro Mazda championship standings with six points leaving Toronto, with Mid-Ohio Sports Car Course next up on the docket in two weeks.
"With such a competitive field this year in Pro Mazda, the consistent finishes coming into Toronto have really been paying dividends compared to previous years," said the 20-year old. "But that can change at anytime. We are only halfway through the Championship. We need to keep the consistency in my driving and with the car mechanically like we have, and we will be there in the end when it counts."
With five rounds remaining in the championship, Michael Duncalfe is already plotting his next move as the Exclusive Autosport team keeps expanding on a yearly basis.
"The biggest difference between now and 2013 when I started Exclusive Autosport is that in 2013 we only competed in F1600, but now we have F1600, USF2000, Pro Mazda and we are looking at Indy Lights," said Duncalfe, who operates his F16000 operation out of Saskatoon and his Mazda Road to Indy efforts out of Palmetto, Fla. "The goal is simple; stay focused, work hard and do everything we can to help enable our drivers to end up in the winners circle."
Indy Lights Presented by Cooper Tires
The 2018 Championship took another twist as Colton Herta crashed out in Race 1 as a result of a broken thumb sustained in qualifying for Race 1. This enabled Pato O'Ward to run away with the win to retake the championship lead. In Race 2, Santiago Urrutia scored a dominant lights-to-flag win with Pato O'Ward and Aaron Telitz rounding out the podium. With a win and a second place on the weekend, O'Ward now has an 18 point lead in the championship.
Pro Mazda Championship Presented by Cooper Tires
Dutch teenager Rinus VeeKay dominated the weekend in Pro Mazda with two pole positions and two race wins to get himself back in the thick of the championship battle with Canadian Parker Thompson. Thompson still leads, but with only eight points in hand over VeeKay.
Cooper Tires USF2000 Championship Powered by Mazda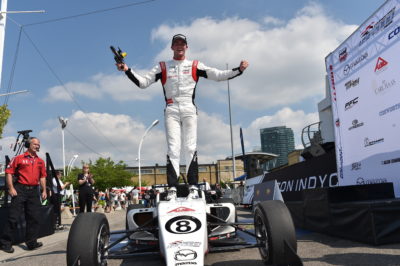 Kyle Kirkwood continued his winning ways, dominating Race 1 from pole position. A less than ideal qualifying for Race 2 meant he would start fifth, but a clash for the leaders on the opening lap meant it was all down to Kirkwood and Brazilian Igor Fraga to battle it out for the spoils in the final USF2000 race of the weekend. Kirkwood got the better of Fraga to score his seventh win in a row.