Jonathan Bomarito puts Mazda RT24-P in fifth position in qualifying at Canadian Tire Motorsports Park
Bowmanville, Ontario. (July 7, 2018) – The No. 55 Mazda RT24-P will lead the way for Mazda at the start of tomorrow's IMSA SportsCar Grand Prix at Canadian Tire Motorsports Park.
Jonathan Bomarito's lap of 1:07.109 on the 2.4-mile circuit during Saturday afternoon's qualifying session put the Mazda that he will share with Harry Tincknell in fifth position for tomorrow's race. Tristan Nunez qualified in ninth position in the No. 77 Castrol/ModSpace Mazda RT24-P that he will share with Oliver Jarvis. In last season's IMSA race at CTMP the Mazda RT24-Ps finished in fourth and fifth position, with Bomarito and Nunez teaming to finish in fourth position. Both Jarvis and Tincknell will take part in their first race at CTMP tomorrow.
Sunday's two hour and forty-minute IMSA SportsCar Grand Prix will be shown tape delayed FOX Sports 1 at 4:00 PM ET. Mazda Team Joest fans can follow the team at @MazdaMotorsports on all social media platforms.
Quotes
John Doonan, Director, Mazda Motorsports
"We've proven since the beginning of the year that we can race, especially over a long stint, so we are excited to see how the race plays out. I'm very proud of Jonathan and Tristan with the way the put it down in qualifying. Obviously, it's a long race and we'll have to see how things develop but our guys have proven they can run at the front no matter what and hopefully we get some long stints tomorrow."
No. 55 Mazda RT24-P
Jonathan Bomarito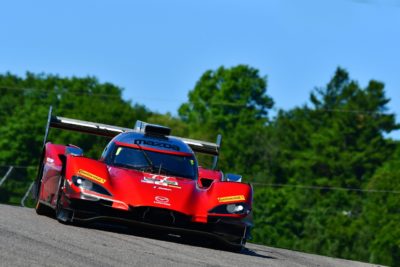 "During qualifying our Mazda RT24-P plateaued and stayed consistent, which is a really good thing especially for race conditions. So we have a really good race for over a stint, it is very drivable, and since it's going to be hotter tomorrow that's very important. I was learning more and more as the session went on, just finding little pieces of time here and there – this track is so fast that you try to take small steps without overdoing it. Fifth is good, we know we can get a few of the cars in front of us, we'll have a good strategy and so Harry and I are optimistic for tomorrow."
No. 77 Castrol/ModSpace Mazda RT24-P
Tristan Nunez
"We have a really good Mazda RT24-P for the race tomorrow, but we struggled a little bit in qualifying today. But we'll find a solution for that and focus on tomorrow. This track is so fast and finding opportunities to pass can be tough, so we'll try to use lapped traffic as best possible and I have a ton of faith in Olly, the guys on the wall and the guys who call the strategy for us."