Parker Thompson takes nothing for granted. The 20-year old native of Red Deer, Alberta, Canada, leads the Pro Mazda presented by Cooper Tires series by 22 points going into the Memorial Day weekend races at Lucas Oil Raceway in Indianapolis. While there's pressure to perform in a situation like this, consider this: In 2016, Thompson held a 15-point lead going into the penultimate race in the USF2000 Championship Powered by Mazda, another rung of the Mazda Road to Indy ladder. Then, something so simple as a flat tire ruined his race, and with it his grasp on the championship.
"It wasn't anyone's fault or anything that could have been helped," says Thompson. "But it does show that the competition is close, and even the smallest things, or spot of bad luck, can have big impact on your season."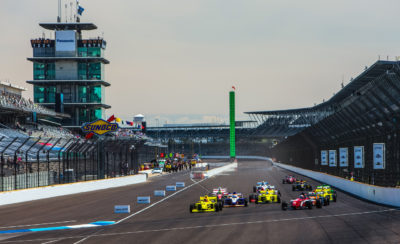 As a result, Thompson, who is coming off a win at the last round of the Pro Mazda Series on the Indianapolis Motor Speedway road course, isn't thinking about the bigger picture. Instead, he and his Exclusive Autosport team, backed by Open Highways and Badlands Motorsport Resort, are focusing on winning one race at a time.
"This team has really gelled this season, and that's had a huge impact on my performance," he says. "Last year was Exclusive Autosport's first year in USF2000 and now this year we are stepping up to Pro Mazda. It's pretty exceptional what they have accomplished so far. So we just need to keep up the momentum that we've already built."
But not only did Thompson lose a championship by a fluke; he nearly lost his motorsport career. "I told all my sponsors that 2016 would be the last season that I would ask them for money," recalls Thompson. "I was convinced that I could win the Mazda Road to Indy Scholarship and move to Pro Mazda. I led the championship right up until that second-to-last race. There was another race that weekend, but I didn't pull through.
"So after that I thought it was over for me," he continues. "Luckily, I went over to Europe with the Team Canada Scholarship in Formula 1600 and qualified on pole for both the Walter Hayes Trophy and the Formula Ford Festival, which got my name back out there. As a result, I was able to put together a deal with Exclusive Autosport, and got another shot at USF2000."
Thompson has certainly made the most of his second chance. He returned to USF2000 in 2017 and scored three wins to finish third overall. Now in his, and the team's, first season of Pro Mazda, he's scored two wins and has yet to finish outside of the top five.
Something else that Thompson doesn't take for granted is the potential to be distracted by a mobile phone while behind the wheel on public roads. By age 16, he was seeing a disturbing trend of traffic accidents in his native Alberta caused by young drivers and adults alike, all being distracted by text messages and other apps while driving.
As a result, using his on-track credentials, where focus isn't just about winning or losing, it's the difference between finishing a race and a trip to the hospital, Thompson founded Drive to Stay Alive. In partnership with the Global Traffic Group, Thompson takes his message to high schools across Canada and United States, having already spoken to over 100,000 students.
"I try to make my presentation fun and engaging. I'm not there to lecture, but to use my racing experience to tell them how I feel safer on the racetrack than on the road, and that being distracted for just even a second behind the wheel can have dire consequences," says Thompson of the campaign that is now national across Canada and the U.S.
In this regard, Thompson is not alone. Fellow Mazda driver Tristan Nunez has a "Don't Text and Drive" campaign of his own that has also been embraced by schools in his home state of Florida and beyond. There's also Project Yellow Light, supported by Mazda; this is a scholarship competition to bring about change by creating videos and other media elements designed to encourage young drivers to develop and embrace safe habits on the road.
Concentration is important everywhere, and right now Thompson is concentrating on the rest of the race season. He knows all too well that life is full of literal and figurative twists and turns. When it comes his life behind the wheel, both on track and off, Parker Thompson isn't taking a chance on fate, just on himself.
SaveSave
SaveSave
SaveSave