South Carolina prep shop builds and preps Spec Miatas and T4 MX-5s
When MazdaMotorsports.com caught up with Steve Bertok, owner of Panic Motorsports with wife Becca, there was a drop floor going into a Spec Miata and a Touring 4 MX-5 being prepared for a driver's school. The truth is, this is standard fare for what goes on most days in this West Columbia, S.C., prep shop.
"Our typical day around here is focused on the race stuff," says Bertok. "We don't take on a whole lot of street work, it's mostly race car stuff. I've got 15 customers whose cars live here, and we'll take out from three to as many as 10 at a time, but usually it's four to six, so on any given weekend we'll have half a dozen cars hanging around."
Typically, Panic takes its customers' cars, or one of its Spec Miata rentals, around the Southeast, maybe as far as Louisiana. Although this year, one of Panic's customers, Mike Burke, who is in his 70s and has been racing for 40 years, wants to travel to some bucket list tracks, so Panic will look at going to Road America and Circuit of the Americas. Bertok uses that as an example of how his shop operates.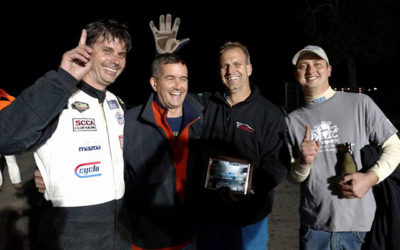 "I don't view everyone as a number in a checkbook. We prefer to be more of a teammate than just a service provider. We've brought a bunch of young guys up through our program, and we've got some older guys like Mike who are in it for the camaraderie, going out and having a good time. We focus on making sure everyone is having fun. We all want to win, don't get me wrong, but there's only one winner, so you've got to make sure everybody else has fun, too," Bertok says.
Over the last 11 years that Panic Motorsports has been in business, the focus has been more on Spec Miata as it was profitable and plentiful, Bertok notes. But in recent years, Panic Motorsports has been building and preparing other cars, notably the third-generation MX-5 for T4.
"We're about to start construction on our fourth T4 car. Some of the folks that have shied away from the huge fields of Spec Miata still want to have fun and T4 and the MX-5 have proven to be a step beyond that car. They've enjoyed it with the power steering and ABS and the more advanced suspension. I think it's a logical progression into that chassis," he says.
In addition to the cars it takes care of for customers, the Bertoks have three Spec Miata rentals, and some of their customers are also willing to have their cars rented for the weekend.
Panic Motorsports
West Columbia, S.C.
www.panicmotorsports.com