Second round of the Hoosier SCCA Super Tour at Circuit of the Americas features 19 Mazda victories
Circuit of the Americas, host to the United States Grand Prix F1 race among many other marquee series, is always a big draw when it hosts an SCCA race, and the second Hoosier Racing Tire SCCA Super Tour of the season was no exception as drivers from all over the country headed to Austin, Texas, to seek victory. Hosted jointly by SCCA's Lone Star Region and Southwest Division, the event featured 300 racers, including 55 in Spec Miata.
Weather played a key role, as low clouds and intermittent heavy mist kept drivers on their toes on Saturday and heavy fog delayed the start of racing on Sunday morning. Spec Miata was one of the races affected by the weather, but Chris Haldeman was up to the challenge. Haldeman pushed his No. 28 X Factor Racing/Mazda/Hoosier/G-Loc Brakes/TPR Consulting/Black Armor Helmets Mazda Miata to the front at the very beginning of a race that spent several laps under a full-course yellow. While officials cleared the track, the mist that hung over the 20-turn, 3.41-mile circuit became more of a drizzle and made things slick.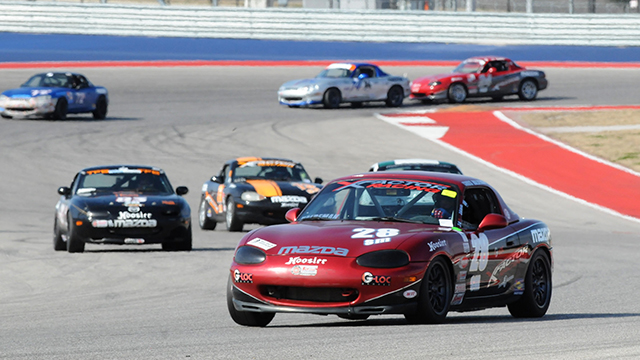 "It was raining enough that the track conditions were deteriorating very, very quickly," Haldeman said following Saturday's race. "Behind the pace car I was checking the grip and there was none. At the restart, I went into the Esses for the first time and I was facing every possible direction. The cars behind me were all over the place. Then out came the checkered flag." Haldeman also took the victory on Sunday.
One fantastic battle that emerged Saturday took place in Formula Enterprises. Paul Schneider held the lead for the first half of the race with Liam Snyder and Robert Vanman in tow, all driving Formula Enterprises Mazdas. After a bit, it became a Schneider vs. Snyder fight when Vanman dropped back – the lead then changed hands from one moment to the next as the two challenged one another down COTA's long straights.
"It was a tough race, but it was clean racing, too," Snyder said after taking the victory in his No. 28 Snyder Brothers Racing car. "A yellow flag bunched us together, then we just sort of went at it. We kept switching places. It was just fabulous." Schneider took the win over Vanman on Sunday.
While Texans such as Haldeman, double E Production winner Matt Reynolds (Miata), Sunday STU winner Luis Rivera (Miata), and Saturday Touring 4 victor Nikko Reger (MX-5) figured heavily in their home-state race, drivers came from far and wide to contest the Super Tour. That includes Oklahoman Bryce Cornet, who took home a couple of Formula Mazda first-place trophies. Coming from farther away were drivers such as Californians Michael Lewis, a double winner in GT-3 (RX-7), and Ross Murray, who took the Sunday Touring 4 win in an RX-8. Bryan Putt came from Pennsylvania to win Prototype 2; Nick Leverone took some STL hardware back to Massachusetts; and Paul Kwiecinski of Illinois took the Sunday Touring 3 win in a Mazda MX-5 Cup car.
The next Hoosier Racing Tire Super Tour event will also be a Southwest Division event, March 3-4 at NOLA Motorsports Park near New Orleans.
SCCA Hoosier Super Tour
Circuit of the Americas
Feb. 3 Mazda provisional winners
E Production: Matt Reynolds; Fair Oaks, TX; Alamo Region; Mazda Miata
Formula Enterprise: Liam Snyder; Southlake, TX; Texas Region; Formula Enterprises Mazda
Formula Mazda: Bryce Cornet; Norman, OK; Oklahoma Region; Formula Mazda
GT-3: Michael Lewis; Poway, CA; San Diego Region; Mazda RX-7
Prototype 1: Bryan Putt; Venetia, PA; Steel Cities Region; Elan DP02
Spec Miata: Chris Haldeman; McKinney, TX; Texas Region; Mazda Miata
Super Touring Lite: Nick Leverone; Mendon, MA; New England Region; Mazda Miata
Touring 4: Nikko Reger; Houston, TX; Houston Region; Mazda MX-5
Feb. 4 Mazda provisional winners
E Production: Matt Reynolds; Fair Oaks, TX; Alamo Region; Mazda Miata
Formula Enterprise: Paul Schneider; Charlotte, NC; Central Carolinas Region; Formula Enterprises Mazda
Formula Mazda: Bryce Cornet; Norman, OK; Oklahoma Region; Formula Mazda
GT-3: Michael Lewis; Poway, CA; San Diego Region; Mazda RX-7
Prototype 1: Bryan Putt; Venetia, PA; Steel Cities Region; Elan DP02
Spec Miata: Chris Haldeman; McKinney, TX; Texas Region; Mazda Miata
Super Touring Lite: Nick Leverone; Mendon, MA; New England Region; Mazda Miata
Super Touring Under: Luis Rivera; Angleton, TX; Houston Region; Mazda Miata
Touring 3: Paul Kwiecinski; Northbrook, IL; Chicago Region; Mazda MX-5
Touring 4: Ross Murray; Marina del Rey, CA; Cal Club; Mazda RX-8