MX-5 Cup champion attends the Mazda Fan Festa, Japan's largest Mazda celebration.
After winning the 2017 Idemitsu Mazda MX-5 Cup presented by BFGoodrich® Tires championship and the MX-5 Cup Challenge at Mazda Raceway Laguna Seca, Patrick Gallagher received a cryptic invitation via Facebook to come to Japan. After discerning that it was indeed legitimate, Gallagher accepted the invitation to attend the Mazda Fan Festa in Okayama, the biggest domestic Mazda fan festival, on Dec. 2-3.
Once there Gallagher joined Takayuki Oi and Yui Tsutsumi in a MX-5 Cup demo race, but that was only a small part of his experience at the Okayama International Circuit, not far from Mazda's hometown of Hiroshima.
"I did a lot of on-stage appearances," says Gallagher. "Just hanging out, talking to the fans and looking at their cars. I also got to drive a Cosmo Sport – the first right-hand-drive car I've ever driven."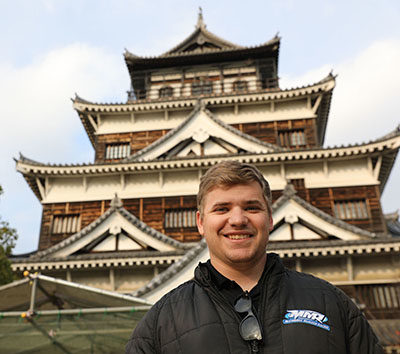 Gallagher was thrilled to see the 1991 24 Hours of Le Mans winning Mazda 787B run a few laps around the circuit. He also fell in love with Mazda's Autozam AZ-1 Kei car, a class of small cars that must have engines less than 660cc. "I thought, 'I have to have one of these.' I was expecting to see the 787B, and that was the coolest thing, but the Kei car was definitely the most surprising."
After the fan fest, Gallagher had the chance to visit Hiroshima, including Peace Park, the atomic bomb museum and the Hiroshima Castle. He was also able to visit a Mazda factory.
"It was cool to see how the cars were built. They have a mixed assembly line where the MX-5, CX-5 and Mazda3 are built – they're one of the only manufacturers that still does that. That was really impressive," says the racer who majored in engineering in college. "Thanks to everyone at Mazda Japan and MZ Racing for such a great opportunity."
Gallagher now sets his sights on the 2018 racing season. Having already won the Pirelli World Challenge Touring Car title prior to the 2017 Idemitsu MX-5 Cup championship, Gallagher will be taking his scholarship money to IMSA's Continental Tire SportsCar Challenge.