What happens when a MX-5 Cup car is introduced into a marriage? Happiness
Mike Globe and Pam Fitzgerald have a new love. Oh, the couple from Brenham, Texas, are quite happy together, but the MX-5 Cup car has taken a place in their hearts as well. "When we went to look at it, I just fell in love with it," Fitzgerald says. "I felt like it was made for me – it was so comfortable. Then when I started driving it on the track, the car handled so well. The car stays put and goes exactly where you want to go. It really responds to what you're asking it to do."
Fitzgerald enjoys the car for high performance driving events, while Globe races the car in NASA Performance Touring C, where he recently finished second in NASA's Eastern States Championships at Sebring International Raceway. He plans on attending the Idemitsu Mazda MX-5 Cup presented by BFGoodrich® Tires spring training at Barber Motorsports Park and possibly doing a limited season next year in the series.
How the couple, who met at the track, got to this point, on the verge of competing in a professional series later in life – Globe is 62 – is an interesting one. It's also a path that will sound familiar to many.
"I've been racing for about 10 years," Globe explains. "Both Pam and I started driving on the racetrack through the Porsche Club. I started out doing DEs and then moved to club racing. Along the way, I had an opportunity to drive a Spec Miata and just fell in love with the racing that came with it. Spec Miata is second to none in terms of competitiveness and fun for the dollar. As it turns out, Texas is kind if an epicenter for Spec Miata racing. It's not uncommon to have fields of 40-plus cars for the races."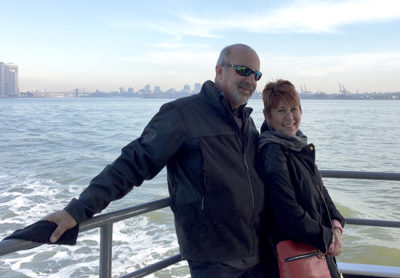 But getting two cars to the track – Fitzgerald was still doing HPDEs with a Porsche – was complicated. And although Fitzgerald drove the Spec Miata a few times and liked it, they began to look for something they could both drive. They spoke to Ara Malkhassian of Alara Racing about maybe purchasing one of the old NC-based MX-5 Cup cars or maybe even an ND if one was available. "He called me back a few days later and said he had an opportunity for an ND Cup car. We went and looked at it and made the deal in a day or two," Globe says.
Globe has added a roof and also a passenger seat to the car so that a coach or passenger can ride along. Other than that, the car is as delivered from Long Road Racing, and it proved to be a good car for PTC at Sebring for the NASA Eastern States Championships.
"For me, it was a weekend of ups and downs," he explains. "I came to a track that I'd never been to before and was very competitive right away, which was exciting. I was the fastest car in class, but had some buzzard's luck along the way." He lightly tagged the wall after getting collected by another car that spun in front of him on the last lap of the first qualifying race. In the second qualifying race, he got caught up in traffic.
"The championship race was probably the craziest race I've ever driven in," he says. "It started in the dry and started raining on the first lap. It was pouring on some parts of the track and not raining on others. We were all on slicks and there were so many cars into walls, they had to black flag the race and clear the track. When we went back out, it was like a Spec Miata race, but there were Mustangs, BMWs, and Thunder Roadsters and everything else going two wide all around the track until everything sorted out – I had the lead and just really played things too carefully and allowed Aaron [Michelet] to get by me. I was faster than he was, but I could never get through traffic to get back on his bumper.
"With what turned out to be two laps left, I told my radio guy, 'I can get him, I can catch him.' And I was reeling him in and then the white flag came out. I kept charging, but I ended up a little over a second short. I'm really, really proud of how I drove, but can't help thinking, 'What if?'"
Globe says it was probably the craziest and most fun race he's ever driven in. But, then again, he has yet to experience MX-5 Cup. He'll get his first taste of that next spring.