Race clutches for your Mazda can offer better shifts and longer life.
Whether your ultimate goal is quicker shifting, greater durability or something in between, Mazda Motorsports has an Advanced Clutch Technology (ACT) package that's right for you, from high performance street clutches suitable for racing and autocross to pure race models.
ACT clutches use premium ceramic friction materials that provide high heat tolerance, high coefficient of friction and lower wear rates. The drive plates are high-carbon spring steel that is heat treated and black zinc plated, designed to resist bending, cracking and fatiguing under severe race conditions. All ACT race discs meet SFI Specification 1.1.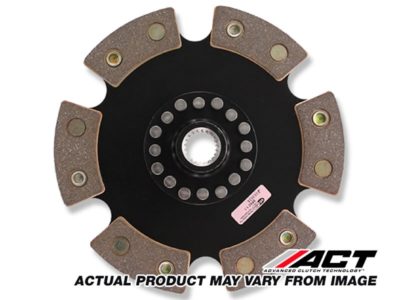 Most ACT race clutches come in either four- or six-puck versions. The six-puck discs have better heat capacity and better engagement. Four-puck discs will allow for quicker shifting. The spring-centered clutches are quieter and have reduced driveline shock and spline wear. The rigid-hub discs will mean increased gear noise, but improved durability.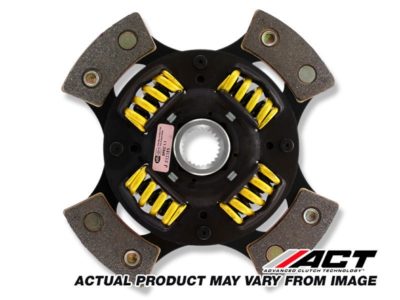 "The clutch discs are available with a sprung hub or a solid hub disc," explains Mazda Motorsports technical specialist Josh Smith. "Most people run a solid hub disc because they are lighter and shift faster. The disadvantage is if you don't shift cleanly, you can damage the gearbox and the synchros. The sprung hub – there's four puck and six puck available – is probably better for a novice driver, or if you have a fleet of cars and you're renting your cars out."
Mazda Motorsports also carries several of the performance street clutches from ACT, which have solid, sprung discs and offer quicker shifting and improved reliability over stock.
Some discs are offered as part of a kit that includes the pressure plate, release bearing and spline alignment tool. The discs, pressure plates and alignment tool are also available as separate pieces.
The ACT clutch kits and parts for the Miata/MX-5 are listed here. For other models, see the competition parts online catalog or call 800.435.2508 to order.
Click link below to see PDF.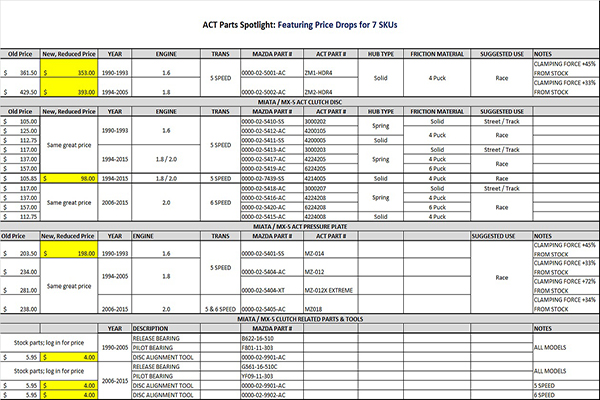 ACT (Miata) clutches – without pricing
Related Content:
Parts Spotlight: Brake Pads
Parts Spotlight: Centric Brake Rotors
Parts Spotlight: NA & NB Miata Offset Bushings