For Brakke, racing an EP-class Miata is only the beginning of his involvement in SCCA racing
Few drivers are as deeply committed to SCCA racing as Jon Brakke of Fargo, N.D. Brakke has collected three SCCA national championships driving a Miata in the E Production class, winning in 2003, 2010 and 2012. But he gives as much back to the sport as he claims on the podium. For the past 16 years, Brakke has served as the chair of SCCA's Production category ad-hoc committee.
In SCCA's rule-making hierarchy, the ad-hoc committee is tasked with evaluating competitor requests and suggesting specification changes to equalize the competitive potential of each car. The ad-hoc committee makes recommendations to SCCA's Club Racing Board, but the real goal of each committee is to keep their classes healthy and competitive.
"I think production has shown very well over the last few years," Brakke says. "G Production was a real challenge when the numbers dropped low and we had to consolidate it with H and F Production. That was tough for everybody, particularly the competitors. But I think over the last several years the Production numbers have stayed stable, and they've actually grown. We're seeing a real resurgence in H Production, so I'm very pleased. We've tried to take an approach of limiting the number of changes in the off-season. I think competitors like that."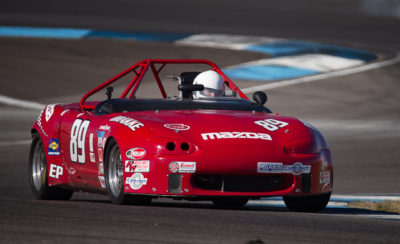 As an active competitor himself, Brakke brings tremendous credibility to his position attending this year's SCCA Runoffs in the same Miata he's won the Runoffs three times in. "The car is not vastly different from years past," he admits. "We redesigned the rear suspension last winter, and from a suspension standpoint, the car seems to be working better. The engine is pretty much the same as we've run for the last five to seven years."
Brakke is always a contender for the Runoffs podium, and this year was no different, both qualifying and finishing strong in fifth place amongst stiff competition at Indianapolis Motor Speedway that included past Mazda champions Matt Reynolds and Jesse Prather. But regardless of where he finishes, you'll always see a big grin from Jon Brakke after each race.