A newcomer to the series, Stout has made quite an impression with two wins in 2017
Patrick Gallagher may have clinched the 2017 Idemitsu MX-5 Cup Presented by BFGoodrich® Tires championship and the $200,000 scholarship that goes with it before the end of the season, but Rookie of the Year was still raging with a pair of races at Mazda Raceway Laguna Seca yet to run. Leading the charge was Robert Stout, driver of the No. 28 Lucas Oil Miata fielded by McCumbee McAleer Racing. Stout won races at Indianapolis Motor Speedway and Toronto, and is one of only two drivers besides Gallagher to win a race in 2017 (Todd Lamb is the other). Still, he was in a tight fight for Rookie of the Year with Bryan Ortiz thanks to a couple of poor finishes. But when the dust settled at Mazda Raceway, Stout had claimed the RoY title and the $50,000 scholarship that goes with it.
Stout has raced a wide variety of cars and classes, including World Challenge Touring Car, where he won the 2010 championship, short course off road racing and, most recently, winged sprint cars. Stout was eyeing Indy Lights, but his sponsor wanted more exposure in sports cars.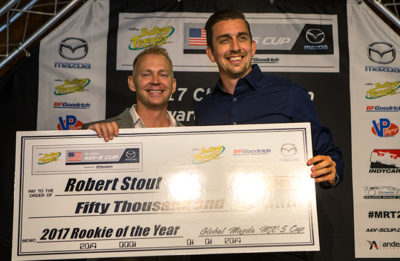 "John Doonan was a huge part of the reason I ended up in MX-5 Cup," Stout explains. "Coming out of winged sprint cars, I really wanted to get into the Indy Lights route; honestly, that's where I'd love to be. Lucas Oil wanted me back in sports car racing, that's where they wanted more advertisement, so we were happy to do that. Doonan has always been good to the racing industry in general, and we got in touch with him about potentially running IMSA Lights. He referred us to McCumbee McAleer Racing and said, 'Hey, if you run over here, there's no doubt you're capable of winning and you've got a very large scholarship potential if you can win the MX-5 Cup championship to help you get into IMSA Lights.'"
Stout had never competed in MX-5 Cup or Spec Miata, but he knew how tough it was. "My dad called me and said, 'Let's find out how good of a driver you really are; we're going Miata racing.' I was happy about it, especially hearing about all the contingency money, $200,000 for the championship, $50,000 for Rookie of the Year. We jumped right on board."
Stout was quick from the get-go and winning the Rookie of the Year and the scholarship that goes with that title will help a lot whether he stays in MX-5 Cup or looks toward that next step. He's shown he has the speed to win the overall title, and now he's eyeing the Mazda MX-5 Cup Challenge to be held at Mazda Raceway Laguna Seca. While it's not 100 percent that he's going to be there, he acknowledges that the opportunity and the prize money is too good to pass up.