Spec Miata racer has his sights set on a Runoffs win – and MX-5 Cup
Tyler Kicera already has a NASA National Championship to his name, having won the East title in Spec Miata at Watkins Glen International last year. Now he has his eye on the SCCA National Championship Runoffs at Indianapolis Motor Speedway, intent on winning the championship and earning another invitation to the Mazda Road to 24 Shootout. Winning that would certainly help cement his plans to go to the Idemitsu MX-5 Cup Presented by BFGoodrich® Tires in 2018.
"I'm working with Flatout Motorsports, helping them build their MX-5 Cup program," Kicera explains. He and the team made their debut at Watkins Glen, where Kicera had a best finish of second. "We're hoping to use that debut to generate some credibility for the team and prove our ability to field those cars and do well. Hopefully we can build a more concerted effort next year to approach the season with a multi-car team."
Kicera just wrapped up the SCCA Northeast Conference points battle in Spec Miata and has won the SCCA national points championship two years running. In capturing that Northeast Conference championship, he feels he raced against the best in the country, giving him high hopes that he'll do well at Indy, even with nearly 100 entries in the class.
"The number of cars doesn't faze me much," he says. "When I go down the list of drivers, there are a lot of really talented people in the field. But, honestly, I feel like all of the heavy hitters, a lot of the guys that are going to be contending for the win, with the exception of a couple of names, were all at VIRginia. We had a 55-car field and I managed to come away with the win both days. That gives me a lot of confidence I can at least be in contention at Indy."
Indy could be Kicera's last hurrah in Spec Miata because he'll be turning his attention to MX-5 Cup after that. He says while he loves everything about Spec Miata, he also believes he's ready for a new challenge. Fortunately, he sees a lot of similarities in the racing, if not the cars themselves.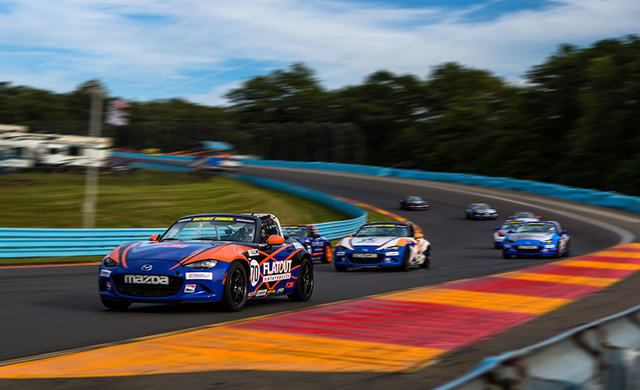 "I think the parity in MX-5 Cup is incredible, second to none, with what Mazda's doing with the car and keeping it a level playing field. I think Spec Miata has that as well, but it's not as tightly controlled. The close competition, wheel-to-wheel, low-horsepower cars, I think all of that really plays well into racing and driving in MX-5 Cup. Race craft is something you really learn in Spec Miata. It's one thing to make passes; it's another to do it cleanly and intelligently.
"The cars are vastly different in every way," he continues. '"When you drive a Spec Miata, I would say you are manhandling it. You have to be a bit of a bull with it, whereas the MX-5 Cup car, it's really more of a game of finesse and slow inputs everywhere. You want to keep the car calm. I really feel the Spec Miata likes being on the edge and maybe a little bit over, and that's where you find that last little bit of speed. In testing, I've learned a lot about my driving style and how to adapt that to MX-5 Cup."
Kicera will be teaming with Matt Koskinen, and hopes to find two more drivers to join Flatout's efforts in MX-5 Cup for 2018. Kicera's plan is to work with the team as lead driver and driver coach.