Before the 787B – John Morton Wins at Le Mans with a 13B Lola in 1984
When you take a detailed look at his career, John Morton has to be counted as one of the most versatile drivers in racing history. With rides ranging from 427 Cobras to Can-Am, Formula 5000, Indy cars and IMSA GTP, Morton had a career most pro racers only dream about. That career included competing at Le Mans nine times, driving Ferraris and Porsches and the Mazda-powered Lola 616 prototype. It was in that Mazda-powered car that Morton had his first great success at the famed 24-hour road race.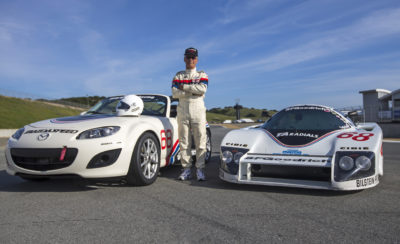 Morton tells the story like this: "My favorite connection driving with Mazda was at Le Mans in 1984," he says. "I hadn't been on the BFGoodrich Busby team, but Rick Knoop was one of the drivers and Busby was looking to fill the roster for a two-car team at Le Mans. I got the ride! In the car I drove, one of the other drivers was a Mazda factory driver named Yoshimi Katayama and the third was John O'Steen."
Mazda had won the C Junior class the year before with an in-house 717C prototype, so the rotary engine had already proven its durability and power. With confidence in the team and in the car, Morton made the trip to France for the race.
"We flew over on the Concorde, because they didn't want us to be tired," he recalls. "The car was a Lola 616 prototype with a 13B two-rotor engine. It was a Mazda factory effort along with BFGoodrich. They had two classes for prototypes back then, called C1 and C2. The only thing that really differentiated the classes was the fuel allotment, and if you used it all up, you were done! We were in C2, so we ran smaller cars and we had to drive relatively conservatively because our cars were not very fuel efficient."
Driving to win while keeping an eye on the gas gauge wasn't easy, and required that much more effort in the corners.
"At the time, the Mulsanne straight was three and a half miles long," Morton relates. "We had a fuel flow meter in the car, and we'd get up to about 175 miles an hour, and then we'd back off a bit to conserve fuel. As the race wore on, we did well. We were front-runners, but not winning all the time. There was another car with an Italian engine called a Giannini, and we'd be leading and then they'd be leading. We were close. They were a little faster because they didn't have the fuel conservation problem, but they broke shortly before the end and we won our class."
Winning your class at Le Mans is no small achievement, and Morton recalls the scene at victory circle.
"The last driver in our car was Katayama, and we were thrilled," he says. "To win the class was a big deal. The crowd dumps over the wall and you're in a massive crowd of people. Katayama was up on the podium with a big wreath around his neck, and we were just wondering how you got up there! We never did get up there."
Both Morton and Mazda went on to win again at Le Mans in future years, including Mazda's legendary overall win in 1991 with the four-rotor 787B prototype. Morton went on to race three-rotor and four-rotor RX-7s in IMSA at both Sebring and Daytona – but that's a story for another time….