An emphasis on setup keeps Scott Rettich running up front in SCCA Formula Enterprises
By any standard, Scott Rettich is one of the leading drivers in SCCA Road Racing. He has claimed numerous SCCA national championships, all behind the wheel of a Mazda-powered Formula Enterprises racecar, plus he has a professional racing championship in the 2011 SCCA Pro Racing Formula Enterprises series.
"My father drag raced for years and years, so I grew up around drag racing," Rettich says. "But I always liked the idea of participating in road racing rather than drag racing because you get way more [track] time than you spend working on the car."
Rettich started road racing in karts at age 12, and at age 32 he has spent most of his life in racing as a driver and founder of the Alliance Autosport team. His resume also includes professional competition in the Star Mazda series, US F2000, the Rolex 24 Hours of Daytona, and in Grand-Am Road Racing. But his passion has always been formula cars.
"SCCA's Formula Enterprises class started back in 2003 as a Formula Atlantic, then in 2007 it became its own class," Rettich explains. "That was when I was running in Star Mazda. In 2009, I decided to come back to SCCA Club Racing. It really made sense to run Formula Enterprises."
Since 2009, Rettich has earned six SCCA national championships in Formula Enterprises, including four in a row from 2013-'16.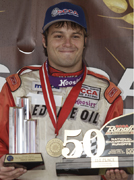 "I just love the class and the concept," Rettich insists. "The car is very economical. You couldn't race as fast in anything else for the amount of money it takes to run in Enterprises."
Formula Enterprises offers a state-of-the-art racecar, running a sealed Mazda MZR 2.3-liter engine. The class also specifies a spec transmission and shock absorbers to keep costs down and the playing field level.
"The differentiators are setup knowledge and knowing what to change and when," Rettich says. "You have enough things to change to get the setup the way you want it, but you don't have a lot to change so you really need to maximize the variables you have."
Rettich has raced and won at tracks all over North America, and he is among the best at setting up the Formula Enterprises chassis. "Each track has a baseline minimum ride height," he explains, "and then going along with that is preload setup, shock setup, and wing setup. It's different for each track. At Road America or Daytona, you're going to run trimmed out quite a bit. For the SCCA Runoffs at Indianapolis this year, [the FE car will] probably have more of a medium downforce setup."
In addition to his own racing, Rettich also supports other ambitious drivers through Alliance Autosport. "Manning our shop with 25 cars keeps me pretty busy," he says. But while Rettich is working on the FE's full-body setup in Prototype 2 this year rather than running in FE himself, he recognizes this year's Runoffs will be a challenge for all FE drivers as the class is now part of the Mazda Road to Indy scholarship program to develop new IndyCar drivers. "We've already had a lot of extra interest in the class," Rettich says. "People want to run Formula Enterprises in general, and to run with Alliance Autosport in particular. Mazda and the Road to Indy definitely raised the interest level quite a bit, especially for young drivers."
It's often said that no one races alone, and that's especially true for Rettich. "A lot of people have helped me throughout my career," he says. "My parents have always been there to support me. PDI Communications Systems has been a sponsor with us for the past 10 years, and Red Line Oil has been with me since I ran my first Runoffs in Formula Enterprises in 2009. They've really been a big part of our success."