Penultimate round of Hoosier Super Tour at Road America also features first-time winners at the iconic event
Despite being in its 62nd year, the WeatherTech Chicago Region June Sprints, the penultimate stop of the 11-round Hoosier Racing Tire SCCA Super Tour series, saw a few firsts at Road America in Elkhart Lake, Wisconsin.
Formula Enterprises driver Dean Oppermann was first to the checkered flag in his class on Saturday piloting the No. 27 SCCA Formula Enterprises Mazda. He took the lead early in the race but was chased to the end by Elliot Finlayson who took both FE wins at the Mid-Ohio Hoosier Super Tour stop two weeks ago.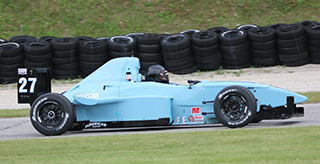 "It's my first June Sprints win, baby!" exclaimed Oppermann after the race. "But it was far from a cakewalk. I got a good start and was able to get into the lead going into Turn 1, but then got passed going into Turn 5 by two people. I got back by them in Turn 6, and the others began to mix it up amongst themselves and allowed me to get a little bit of a gap. I then just kept my head down to lengthen that gap as much as I could."
After finishing second, Finlayson came back to win FE on Sunday, launching well up the order in the Super Tour national points. Opperman was second.
Jim Drago won Spec Miata on Saturday, then featured in an intense fight for the victory on Sunday, but ultimately fell short in a field that topped 50 drivers. Voytek Burdzy moved to the front early on Sunday and held the lead for much of the session while racers such as Drago, Daniel Bender, Chris Haldeman, Danny Steyn, Michael Carter, Todd Buras and Jason Knuteson swapped positions behind lap after lap. But working lap nine, Drago and Bender hooked up a draft and moved by Burdzy on the front straight.
"At this race, you really can't walk away from everyone because it's such a tough field," Burdzy said. "I just wanted to maintain enough pace to stay up front as long as I could and manage the tires for the end."
As the last lap began, it was Drago and Bender at the front of the pack, with Burdzy holding third. At Canada Corner, Burdzy made a move to retake the lead. The fight continued the final few corners and up the main straight to the finish line where Bender managed to squeeze out a win by less than a second in his No. 11 Advanced Autosport/Bravo Trailers Spec Miata. He was followed to the line by Burdzy and Drago.
"That was nuts," Bender said about the race. "I was able to pick up a draft from Drago who gave me a little bit of help to come in first. It was epic."
Two drivers took double victories at the sprints. Ken Kannard traveled from Sebring, Fla., to take two F Production wins in his Miata. Wisconsin native James Ebben had a shorter tow, but nevertheless took home a pair of wins in Touring 4 in his NC MX-5.
The final round of the Hoosier Super Tour is next weekend at Watkins Glen.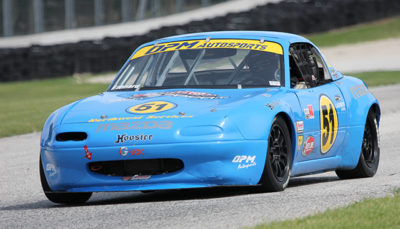 SCCA Hoosier Racing Tire Super Tour at Road America
The WeatherTech Chicago Region June Sprints
June 17, 2017, provisional winners
Class: Name, Hometown and Car:
F Production: Ken Kannard; Sebring, FL; Mazda Miata
Formula Atlantic: Keith Grant; Germantown, TN; Swift .016 Mazda
Formula Enterprise: Dean Oppermann; Plainfield, IL; SCCA Formula Enterprises Mazda
GT-3: George Cichon; Machesney Park, IL; Mazda RX-7
Spec Miata: Jim Drago; Memphis, TN; Mazda Miata
Touring 4: James Ebben; Appleton, WI; Mazda MX-5
June 18, 2017, provisional winners
Class: Name, Hometown and Car:
F Production: Ken Kannard; Sebring, FL; Mazda Miata
Formula Enterprise: Elliot Finlayson; Yorkville, IL; SCCA Formula Enterprises Mazda
Spec Miata: Daniel Bender; Northbrook, IL; Mazda Miata
Touring 4: James Ebben; Appleton, WI; Mazda MX-5