Plugs to convert a power rack to manual, and adapters to fit your steering wheel or quick disconnect using the original Mazda mounting method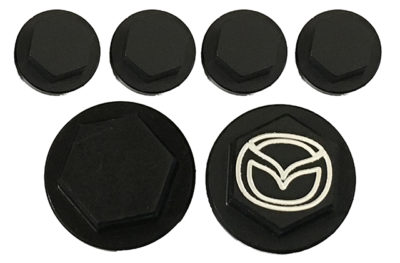 A set of six plugs fill all the power steering fluid line holes in the steering rack, sealing it and turning it into a manual rack – a popular modification for Miata racers.
"Guys normally just loop the lines," explains Josh Smith, Mazda Motorsports technical specialist . "These are aluminum machined plugs for all holes in the steering rack, which fully de-powers it, keeps everything clean and there's no fluid leaking out of it. It's just a nicer, cleaner, more professional way of sealing up that rack. By sealing it up, you essentially turn it into a manual rack." (Note: Remove the excess power steering fluid to prevent harsh steering requirement.)
The competition steering shaft adapter works just like the factory steering wheel attachment, making installation much easier.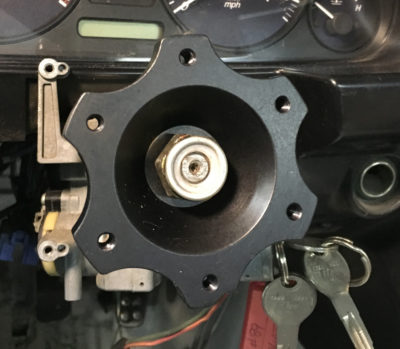 "No one else does it quite like this," Smith explains. "It's a billet, CNC-machined aluminum part that utilizes the factory spline and taper and Nyloc nut, just like Mazda installed the factory wheel. You pull the factory steering wheel; you slip this piece on; Nyloc it back down; and from there you bolt on your quick disconnect or aftermarket steering wheel."
Once the steering shaft adapter is in place, you can add your pieces as desired, including spacers – also sold through Mazda Motorsports as seen below – a quick disconnect or wheel. It uses the same six-bolt pattern used on most racing wheels and quick disconnect adapters. Anodized black spacers to put the steering wheel in the right position for the driver are available in 0.5- and 2.5-inch increments and have the same six-bolt pattern. The steering shaft adapter will fit all MX-5 Miatas from 1990 through current models, NA to ND (i.e. first generation through current Miata).
Steering Rack Plugs, 1990-'97 Miata
Part No. 0000-04-5816
Price: $55.00
Steering Rack Plugs, 1999-2005 Miata
Part No. 0000-04-5818
Price: $55.00
Steering Column Shaft Adapter
Part No. 0000-10-5680-MC
Price: $150.00
Steering Column Shaft Spacer – 0.5in.
Part No. 0000-10-5684-MC
Price: $45.00
Steering Column Shaft Spacer – 2.5in.
Part No. 0000-10-5683-MC
Price: $100.00
Quick Disconnect – Bolt On – 2.5in.
Part No. 0000-10-5682-MC
Price: $110.00