For Copeland, adding Pirelli World Challenge to his MX-5 Cup schedule is an opportunity too good to pass up
The opportunities to race a Mazda MX-5 Cup car continue to expand. For 2016, the car became eligible to run in Pirelli World Challenge Touring Car A, adding racing possibilities to the already existing venues in the Idemitsu MX-5 Cup Presented by BFGoodrich® Tires, SCCA Club Racing Touring 3 and NASA Performance Touring. Some racers who compete in MX-5 Cup are taking advantage of the added opportunity, including Dean Copeland and some of his Copeland Motorsports teammates.
"We decided to run in Pirelli World Challenge because it's just another wonderful opportunity to expand our effort with the MX-5 Cup car that's a very strong platform," Copeland says. "It's very versatile track to track, and I felt like we would be able to come into the series with the exact same setup that we run in Cup and be able to compete. So far, in the opening rounds, it has shown that it is capable. It's won a lot, it's fast, and I think it's the car to beat right now."
Copeland took a victory at Canadian Tire Motorsports Park, but missed taking the doubleheader due to a wet race, a boon to the front-wheel drive cars. Matthew Fassnacht had already won both races at VIRginia International Raceway, and Elivan Goulart took a pair of wins in the MX-5 Cup car at Lime Rock Park.
"The ND car is going to be strong – it gets through the corners so much better," says Copeland. "The guys at Long Road Racing did a really good job building the cars and Mazda's got the platform dialed in. We can bring our setup straight over from MX-5 Cup – put a hardtop and Pirelli tires on it and just have at it. They're a lot of fun to drive, and I just really enjoy any time I can have in the cars."
Dean and his father Kevin are the Copeland in Copeland Motorsports, which has a fleet of MX-5 Cup cars to compete in MX-5 Cup. Adding World Challenge to the mix only made sense.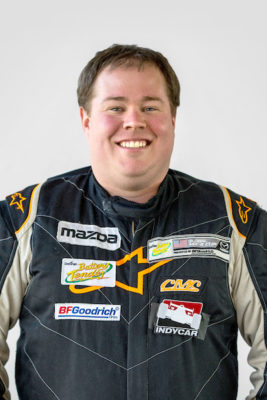 "It really transfers over from MX-5 Cup from a business standpoint," he continues. "I have a six-car effort in MX-5 Cup, and all those guys are getting excited and want to come run some Pirelli World Challenge, too. It really transfers over, so there's going to be more Mazdas on track and I think it is an all-around good thing for the Mazda family."
Copeland currently sits third on the all-time win list in MX-5 Cup, but he may be taking a step back this year.
"I'm going to focus on some coaching [in MX-5 Cup]. But any time you can spend more time in the seat, it's obviously better. You don't ever want to let yourself get rusty or let your guard down. I felt like the first race this year at Barber, I was off my game, a little rusty. I hadn't been in the car for a few months – I missed the last race of last season – and I was a little let down with my personal performance. Some of my teammates ran well at Barber, and I'm not one to hang around mid-pack, so I see an opportunity to go to World Challenge [as a way to] get some seat time, work on some setups. Hopefully we'll be ready for Indianapolis."
In World Challenge, Copeland is looking to bounce back from that DNF at VIR that has left him a bit of a points hole to crawl out of, but he believes he can bounce back.
"I would love to say we can claw our way back into it, and we're definitely going to give it our best shot," he says. "If it's not in the cards, we're here to win races. If we can't claw our way back into the championship, I'm just here to make their life tough and be on the podium and be the frontrunner for Mazda."