– Prototype Drivers Tom Long and Joel Miller Earn First Podium Finish –
DETROIT (June 3, 2017) – The Mazda Prototype team has found their stride on street circuits in the IMSA WeatherTech SportsCar Championship, as drivers presented by Lear at the Belle Isle course. This marks a third consecutive top-three finish for Mazda on street circuits, dating back to this event last season. The sister car, the No. 55 Soul Red Mazda, finished fifth with drivers Jonathan Bomarito and Tristan Nunez.
Starting fifth (Bomarito) and seventh (Long), the Mazdas moved forward to fourth and fifth in the early stages of the 100-minute race on the 14-turn course, and ran on-pace with the leaders. Under a full-course yellow with a little more than an hour remaining, both teams made their way to pit lane. On the exchange, which saw both teams change drivers, the No. 70 moved up to fourth, passing the No. 55, which was then fifth. At the restart, Joel Miller made what may be the move of the year, as he powered around the second and third-place cars on the outside going into the tight Turn 1. Using a fast car, Miller pulled away in second place. One last stop for fuel meant Miller was third, where he remained to the finish.
A more adventurous finishing segment took place for Nunez, as he was hip-checked and cut-off in heavy traffic, but fought through to run seventh. With approximately 20 minutes remaining, the two Prototypes in front of Nunez tangled, sending the No. 85 car spinning. Nunez quickly made one move and then another to barely squeeze by the rotating opponent. Credit also goes to team spotter Daniel Tremblay, who helped the 55 car avoid carnage. Nunez brought the car home fifth.
DRIVER QUOTES
Tom Long, No. 70 Castrol Edge/ModSpace Mazda Prototype
"It was an exciting day here at Detroit. Both of our Mazdas ran really strong and were very competitive. In traffic in the beginning, it was exciting and intense. It's a balancing act of keeping your nose clean and being aggressive. The Mazda team did an awesome job with a great pit stop. And Joel's fantastic restart moved us into contention. From there, it was just a manner of making that Mazda fuel mileage work for us.
"We're excited to have our first podium. It feels like it was long overdue, but it feels and tastes good. It was a long-time coming and that's what Mazda is all about: 'Never Stop Challenging.' You never know when one of these races are going to go your way. For today, we're certainly excited about the podium result."
Joel Miller, No. 70 Castrol Edge/ModSpace Mazda Prototype
"Tom did a great job for handing the car over and then it was a sequence of events. The first was a great pit stop and we slotted into fourth-place. And then the restart. I saw a gap and got a good jump and the No. 10 car got held up. Then the No. 5 defended under braking and I thought 'OK I'm going to make the outside work!' We were able to get both of them! Unfortunately (for me), from that point on it became a fuel-mileage race. As a driver, we want to push, but my engineer kept me calm, and he told me to bring it home. It's been long overdue for the No. 70 crew. We're one big team, and getting a podium here is huge, but we want the next step: a victory."
Tristan Nunez, No. 55 Mazda Prototype
About his great save/avoidance: "I definitely had some help from above, because that was… I can't even get my brain around it. They got tangled up in Turn 1, and I saw that from a distance, but I didn't know where the No. 85 was going to go. He let off the brakes and came right into me. I jerked the car to the right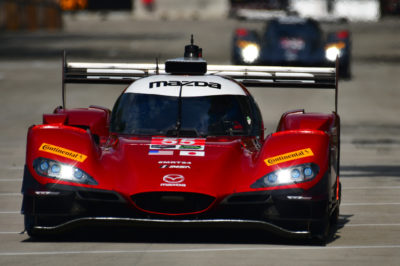 – and I was able to do that because the set-up was really good on the car. I know everyone's talking about it, so I can't wait to see it on video.
About the heavy traffic: "It was madness! There was a lot of door-to-door type deals. This track is known for being vicious. But the racing was fun and it was good to be up there in the fight. Huge congrats to the No. 70 car. Joel's incredible move around the outside of two cars was really fun to watch from my spot!"
Jonathan Bomarito, No. 55 Mazda Prototype
"It was a fun battle in traffic. Varying-speed cars on a tight street course is always exciting! You're focused so much that it's not perceived as 'fun' in the moment, but it is when you look back on it. We made it relatively unscathed from all of the madness. As the starting driver, I'm just trying to get it into Tristan's hands with the car not outta whack. I'm super-pumped for the No. 70 guys. Joel and Tom did a great job, Tristan did a good job and the crew guys did great to get another podium for Mazda."