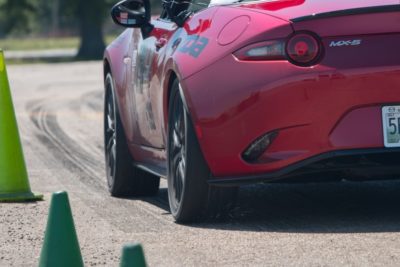 (Left, Chris Harp, C Street, ND MX-5, launches during the SCCA Pro Solo Super Challenge in Blytheville Arkansas.) ProSolo competitors descended upon the Blytheville Aeroplex, the first weekend of May. On Friday, competitors were greeted with 20mph winds, with gusts to near 45mph. Key cones were double stacked on course to prevent them from blowing over for course walkers. The heavy winds also brought cool temperatures to the event.
Saturday morning saw the wind die down as the competition heated up. 206 competitors tackled the two mirror image courses for individual class wins as well as the coveted Super Challenge and Ladies Challenge. Nearly 25% of the field brought Mazda vehicles to do battle with manufacturers from all over the globe. In what is becoming an increasingly popular class, C Street was an 11-car field of 2016 Mazda MX5's. Taking the his first Pro Solo victory was Chris Harp from Lenoir City, TN. Chris started out fast and never looked back as Ken Baker, Daniel McCelvey and Rick Cone did what they could to best him. In the end Chris would take the victory by .220 seconds, and head off into the Super Challenge later Sunday afternoon. In E Street, a familiar face once again stood at the top of the leaderboards as Jonathan Roberts took his second Pro Solo victory in 2017, driving his 1999 Mazda Miata. Michael Ron was a close second, just .129 seconds behind. In STS, the historic Honda versus Mazda battle continued. It would come down to final runs when David Whitener in his 1992 Miata, coned a class winning right side time to take second place in the 13 car class. Like C Street, C Street Prepared was an all Mazda class. Neal Tovsen took advantage of Michael Kline's cone penalties to bring home the top spot in his 1990 Miata by .271 seconds. In Super Street Modified, Randal Wilcox was able to best his competition, with a .465 second victory, and moving him to the top of the mid-season points in the class. In Bump Class 4, Chris Edens in his BSP 2005 Mazda Miata took home 3rd place honors, just .790 seconds out from first place. In Ladies Class 1, that super quick Miata of the Whitener's found itself on top of podium, besting 13 other ladies. Kim Whitener took an impressive 1.836 victory into the Ladies Challenge as the number one qualifier.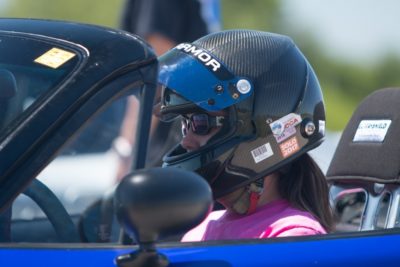 (Right, Kim Whitener focuses, before beginning the Ladies Challenge.) Sunday afternoon is Challenge time at Pro Solo's where the top 32 open competitors and the top 8 (or 16, depending on participation), ladies all compete against each other to determine the challenge winners. In the ladies challenge, Kim Whitener would easily advance to take the Ladies Challenge victory in her WRS/Black Armor Helmets STS Miata. In the Super Challenge, David Whitener would best the other Mazda competitors and make it to the semi-finals, ultimately taking 4th place honors in the family Miata.
After the first four events of the 2017 Pro Solo season, the following Mazda competitors are leading their respective classes in points. C Street, Brian Coulson. E Street, Jonathan Roberts, B Street Prepared, Anthony Porta. C Street Prepared, Stephen King. Super Street Modified, Randal Wilcox.
The 2017 SCCA Pro Solo season continues on May 13th at the New Meadowlands Sports Complex, in New Jersey.