Enthusiast and racer Derrick Ambrose has made tuning Mazdas his day job
In 1997, Derrick Ambrose and Rich Harris were looking for parts to hop up a Mazda MX-3, but found tuner parts were not readily available. "A couple of guys wanted parts for an MX-3 – that's honestly how it started," says Ambrose. "We couldn't find anything for the car until we hit Mazdaspeed Japan. The funny thing about that is the first person we talked to was Koby Jr., Takahaur Kobyakawa's kid, when he was working there in Tokyo. We set up a relationship with them and started importing the parts, and that was kind of the beginning."
With little more than a want to tune their own cars, CorkSport was born. "We started out being a little bit reckless," Ambrose admits. "We really didn't have a grand plan, we just realized people were looking for these parts and we figured out how to get them. We opened for business in April 1998. We were operating out of one of the rooms in Rich's apartment, and my bedroom."
While the mainstream market focused on cars like the Miata, CorkSport took the road less traveled. "We started out with the 323, Protegé, and RX-7 – they were still popular cars at that point and there was enough of them out there that you could generate some revenue on it. We stayed out of the MX-5 market for the most part, and just went where nobody else was."
This niche market focus came from their love of Mazda's more unique offerings. "I had a 323 GTX, Rich had his MX-3, we had RX-7s galore – we had tons of those first gen cars," Ambrose explains.
Things escalated rapidly for the Mazda loving duo. "We realized pretty quickly there was enough demand to do something with this," he explains. "I was a dental technician student, and I dropped out of school to do this full time. Rich was an electrical engineering student. He got his degree in that, but about five or six years in he quit his job and came to CorkSport full time as well."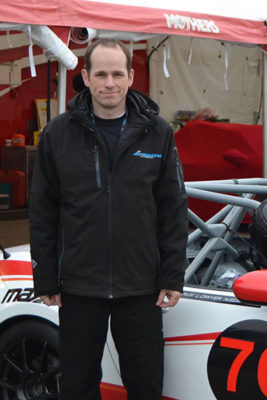 Importing and selling parts proved a worthwhile effort, but like any business, to succeed means to grow. "We trucked along for a few years selling and sourcing hard-to-find parts," Ambrose says. "We started importing a lot of pieces, then after three or four years we realized that if we really wanted to make any money, we would have to start making our own parts. There was a big transition in what we were doing; we started working with companies to manufacture pieces that we wanted to our specific specs."
CorkSport has long been rooted in motorsports, and over the years has built a strong relationship with Mazda Motorsports. Ambrose is a regular fixture at the 25 Hours of Thunderhill, serving as a car chief for the factory Mazda effort, and is regularly found behind the wheel of his SCCA Touring 4 classed Mazda3.
"We developed a lot of relationships with the guys at Mazda Motorsports over the years, to the point they would actually call and ask us questions sometimes for the cars," he says. "Jim Jordan worked at Mazda, he was the Director of Alternative Marketing, and when they did the Hot Import Nights shows we helped them get cars. We actually sold John Doonan a set of Mazdaspeed adjustable shocks from Japan for his autocross Mazdaspeed Protegé, long before he was the Director of Motorsports at Mazda North American Operations."
As CorkSport nears the 20-year mark, it houses a dozen or so employees at its Vancouver, Wash., headquarters, where it designs and tests its own components for export around the world. "Almost everything is made in the United States," Ambrose says. "We sell to select U.S. Mazda dealers, and offer direct sales. We also have resellers in the U.K., Germany, Belgium, Japan, Australia, Mexico, Canada, Sweden, Russia, and a bunch of the Islands in the Caribbean."