– History also made in California with Inaugural Mazda Miata Heritage Cup Race –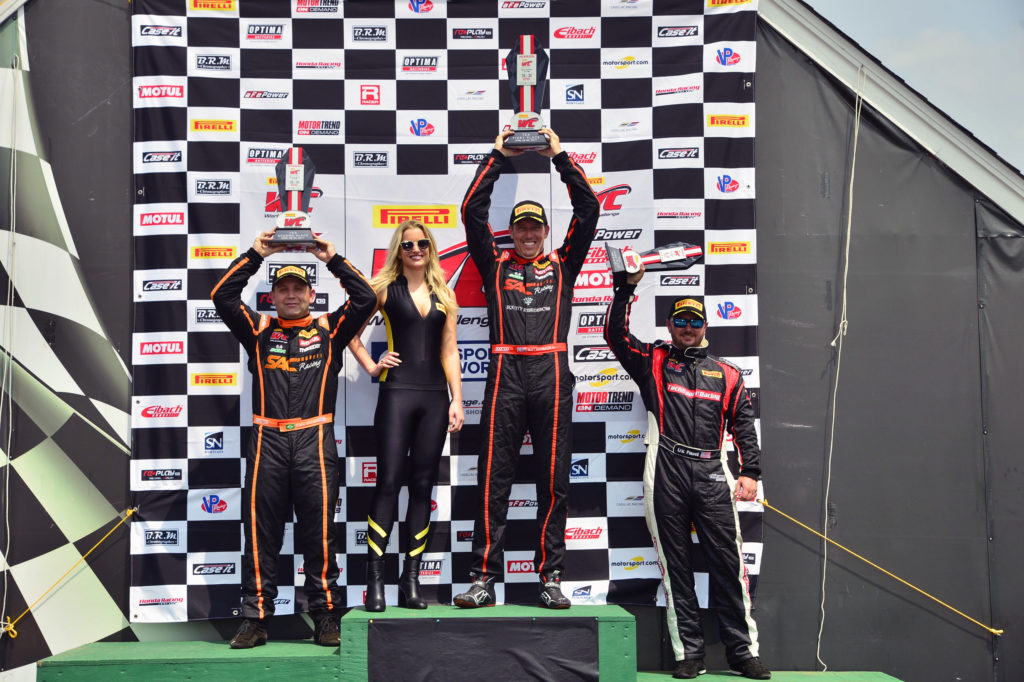 Mazda Motorsports history was made on both coasts this past weekend, as driver Matthew Fassnacht of Madison, New Jersey, racing for S.A.C Racing, scored the first- and second-ever wins for the MX-5 Cup car in the Pirelli World Challenge Touring Car A (TCA) class at VIRginia International Raceway.
On the other side of the country, the Sportscar Vintage Racing Association (SVRA) debuted the Mazda Miata Heritage Cup at Auto Club Speedway (ACS) in Fontana, California. Carl Johnk, from San Diego, California, scored the win in the Sunday afternoon feature race.
The MX-5 Cup car was developed as a multi-purpose race car. The 2016 focus was the Idemitsu MX-5 Cup presented by BFGoodrich® Tires series, where over 50 racers competed over the course of the season. Many of the other 130-plus MX-5 Cup cars raced in club competition with the Sports Car Club of America (SCCA) and National Auto Sport Association, while others became track-day cars at venues like the Monticello Motor Club. Because of customer demand, a hardtop option was developed to allow participation in the Pirelli World Challenge (PWC) for 2017.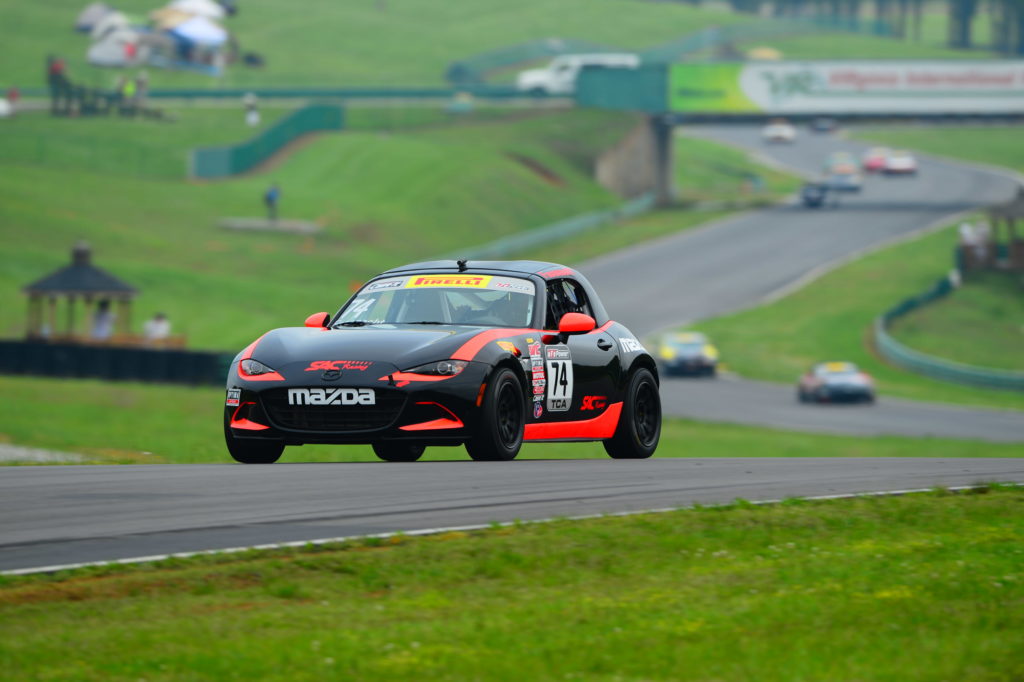 While Fassnacht scored the two PWC TCA wins, he was not the only Mazda racer on the podium in Virginia. During the Saturday race, Fassnacht was joined on the podium by defending TCA champion Elivan Goulart and Eric Powell. On Sunday, second place went to Dean Copeland, with Brian Henderson in third, for two complete Mazda podium sweeps.
Meanwhile in California, a field of first generation Spec Miatas made their formal debut as a vintage class with the SVRA. Thanks to the Miata being over 25 years old, it is now considered vintage eligible. This partnership with the SVRA is an opportunity to grow the world of vintage racing, making the cost to compete much lower than with many of the cars currently being raced, as well as increasing the number of drivers from different backgrounds. This inaugural season will see five races across the country, with upcoming races at Road America, the Mid-Ohio Sports Car Course, Portland International Raceway, and VIRginia International Raceway.
The Spec Miata field in Fontana would have been larger, but many of the top West Coast Mazda club racers were competing at Buttonwillow Raceway Park (BRP) in the Hoosier Racing Tires SCCA® Super Tour weekend. The twelve Mazda-powered winners at BRP were:
Saturday Winners:
-E Production: Philip Royle; Thousand Oaks, CA; Mazda RX-7
-Formula Atlantic®: Jim Mali; Morgan Hill, CA; Mazda Pro Mazda
-Formula Enterprise: Brandon Aleckson; Campbell, CA; Van Diemen FE Mazda
-Formula Mazda: William Weaver; Fresno, CA; Star Mazda Formula Mazda
-Spec Miata: Tristan Littlehale; Saratoga, CA; Mazda Miata
-Touring 1: Marc Hoover; Shingle Springs, CA; Mazda MX-5 Miata
Sunday Winners:
-E Production: Aaron Downey; Rossmoor, CA; Mazda RX-3
-Formula Atlantic®: Jim Mali; Morgan Hill, CA; Mazda Pro Mazda
-Formula Enterprise: Allan Svela; Aliso Viejo, CA; Van Diemen FE Mazda
-Formula Mazda: Mike Anderson; Anza, CA; Mazda Star Mazda
-Spec Miata: Tristan Littlehale; Saratoga, CA; Mazda Miata
-Touring 1: Marc Hoover; Shingle Springs, CA; Mazda MX-5 Miata
"We couldn't ask for a better MX-5 Cup race car debut in the Pirelli World Challenge than what we saw at VIR. The racers in the third and fourth generation Miatas put on a great show battling for the win," said David Cook, business development manager, Mazda Motorsports. " For pro and club racers alike, this is an exciting time to be racing a Mazda, and this was a great weekend to showcase the wide range of opportunities available to our racers."