Tucker is the longest owner of the car that Bob Boig built and drove to the E Production National Championship in 1998
While various generations of the MX-5 are now a common sight in SCCA Club Racing E and F Production, it took a while for that car and other modern cars to supplant the mostly British and Italian roadsters that once populated the classes. While not the first to win an SCCA national championship in one, Bob Boig was certainly a pioneer of the Miata in E Production, taking the title in 1998 after Terry McCarthy (1994) and Pratt Cole (1997) did so in Miatas. What Boig is especially known for, though, was his approach to building the cars.
Don Tucker now owns the car that Boig drove to victory at the 1998 SCCA National Championship Runoffs at Mid-Ohio Sports Car Course, and has been racing it for almost 10 years. Before he got it, it also passed through the hands of Erik Skirmants and Jim Daniels.
"It's still basically the same car," says Tucker, who makes his home in Memphis. "It's pretty amazing how well prepared it is, considering it's age. High-end shocks, adjustable swaybars – the swaybars are something Bob engineered, and I've never seen anything like it anywhere else. It's a pretty interesting and competitive car, if you put a competitive driver in it."
Boig made his name with a Fiat X1/9 that he raced to three SCCA national championships, two in G production and one in F Production. When he started building and racing Miatas in the Production category, it was still an unusual car in the class (although quite popular in Showroom Stock). Tucker notes a few things that were unusual for the car at the time.
"It was just the overall way that he went the extra step to make things work; little things like he used pins to keep the doors closed, but welded in aluminum components just to do a nice job of it. It's just a very well prepared car. The suspension was kind of controversial when it first came out – it was tubular A-arms with rod ends, and the rear frame is all tubular. In essence, it almost behaves like a tubeframe car in an E Production chassis," Tucker says.
Tucker notes that, as far as he knows, there are two other cars like it. Milton Grant had one that was built by Boig, and there was another one that had the same suspension components. The car also was one of the first to use the PBS transmission that became very popular with Mazda GT and Production racers.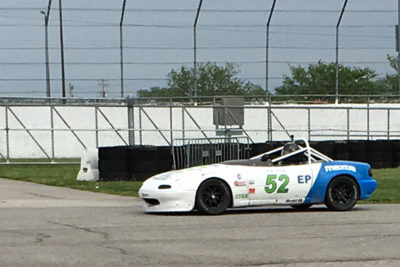 Tucker, who was one of the first to race an Improved Touring S RX-7, says he's had several wins in the car at SCCA national races, but so far hasn't succeeded in winning a U.S. Majors Tour race, nor a national championship. He did note that one year he was running in fifth at the Runoffs when his shifter broke. Nevertheless, he still loves the car and loves racing it.