Idemitsu MX-5 Cup presented by BFGoodrich® Tires Launches 2017 with two great races.
Birmingham, Ala. (22 April 2017) – Having come up just a few points shy of a Mazda MX-5 Cup championship earlier in his career, Patrick Gallagher knows that every point matters.
That mindset was fully on display Saturday at Barber Motorsports Park as the Ohio native converted an ambitious last-lap pass into his second victory of the day in the No. 29 McCumbee McAleer Racing entry as the 2017 Idemitsu MX-5 Cup presented by BFGoodrich® Tires season opened with two very competitive races.
Mark Drennan (No. 5 Winding Road Racing) led a race-high 16 laps, but fell to second in the closing moments of the race as a three-way battle for the lead between he and Gallagher and Nathanial "Sparky" Sparks saw the podium finishers separated by just .4-seconds at the checkered flag.
"I feel like those last three laps of the race, those were the three best laps of my life that I've ever driven," said Gallagher. "It (the pass for the lead) was a risky move, but I wanted to win the race. I wasn't going to do that move every lap, but I was able to beat him over the hill and I got by him. I've lost a championship by a point before, so I know how important every point is. A huge thank you to Idemitsu, Mazda, ModSpace, Howard Concrete Pumping, Spartan Cargo Trailers, BFGoodrich® Tires and McCumbee McAleer Racing, I couldn't do it without any of those folks, so thank you!"
"It was pretty tight," said Drennan of the final two laps. "I saw that Patrick (Gallagher) got by Sparky and I knew he'd be fast and I would need to defend against him in turn five. Shame on me for leaving too much room on the last lap. I'm happy with a second place finish, but a little disappointed it wasn't first place because I led the most laps. It was a great points weekend and I'm thankful for the support from Winding Road Team TFB."
Meanwhile, the rookie class was in a battle of its own with Bryan Ortiz, Robert Stout, and Matt Cresci all swapping positions up through the final lap. In another last lap move, Ortiz got around Stout to take top rookie honors at the finish with his run to fifth place behind Robby Foley.
"I am extremely happy," said Ortiz. "This is my first weekend in the MX-5 Cup series, finishing the second race fifth and being the highest rookie. It was a very interesting race. There was a lot of battling with all the guys. I didn't know what to expect in this race because I didn't finish the first race but I fought hard. I'm very happy and the Copeland Motorsports team did an amazing job. We will keep working and keep pushing to the front."
As the 29-car field came to the green flag, Tim Probert (No. 26 ALARA Racing) made contact with the rear of Luis Gavigano's No. 31 McDonalds MX-5 entry and the angle of impact was enough for Probert's No. 26 machine to roll over onto its top. The incident produced a lengthy full course caution period but demonstrated the integrity of the MX-5 Cup, which was built to international FIA safety specifications. Probert waved to the crowd as he emerged unscathed with the assistance of the Holmatro Safety crew.
When the race went back to green, less than 30 minutes remained as Sparky led the field from the pole position.
"I was in second place for most of the race and I was glad to be there," said Sparky. "I really just wanted to stick where I was. The competition was stiff and it was really exciting racing. I was just glad to bring it home in third for Sick Sideways. I had a great race and I had two of the best decisions I could have and places to defend."
The top-nine cars ran nose-to-tail as positions swapped with every lap, with the INDYCAR scoring system tallying 157 on-track passes.
The Idemitsu Hard Charger Award went to to Glenn McGee (No. 33 Slipstream Performance) who started 29th and improved to finish 17th.
"Well, I won the Idemitsu Hard Charger award, so I passed the most cars and probably had the most fun out there against some tough drivers," said McGee. "This was a phenomenal weekend for me. I was a last-minute entry. I got a call on Tuesday and they asked me to show up to the track because they might have a ride for me. I have some really good people behind me. I would like to thank Mazda, Idemitsu, iRacing and BFGoodrich® Tires who put on a really great series who make it affordable for guys like me. I was Mazda's first virtual-to-reality driver so I just got stuck on the SIM and the only real time I had was in Race 2, so I had to go from a simulator, directly into a race. I can't believe we came away with this."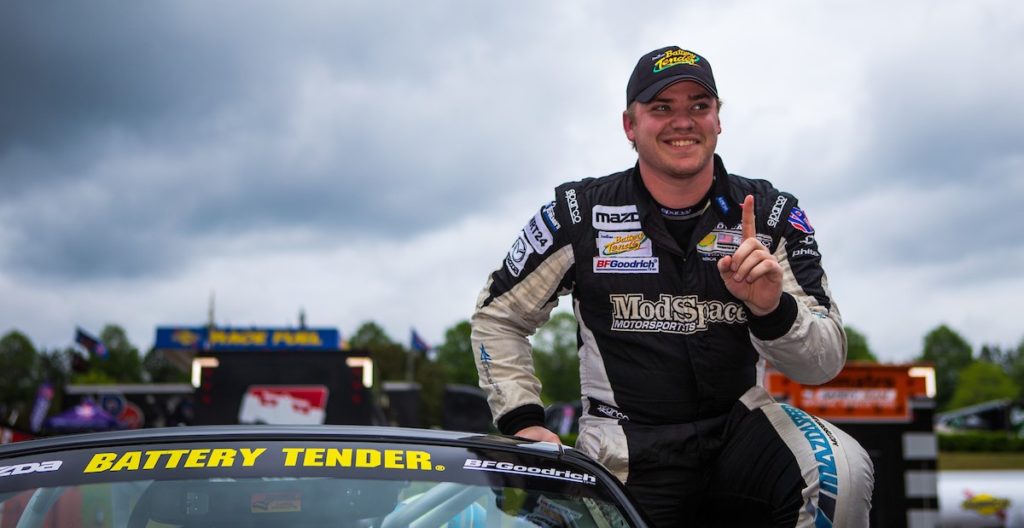 Idemitsu MX-5 Cup presented by BFGoodrich® Tires will return to race action on June 16-18 for Rounds 3 & 4 at the 2.439-mile Indianapolis Motor Speedway road course.
Full results can be found here: http://mx-5cup.com/results
About: The Idemitsu MX-5 Cup presented by BFGoodrich® Tires is the signature spec series for the Mazda Road to 24 (#MRT24), the sports car counterpart to the Mazda Road to Indy (#MRTI). On both paths, Mazda-powered champions earn a Mazda scholarship to advance their career. The MX-5 Cup champion earns a $200,000 scholarship. Find out more at http://www.mx-5cup.com.